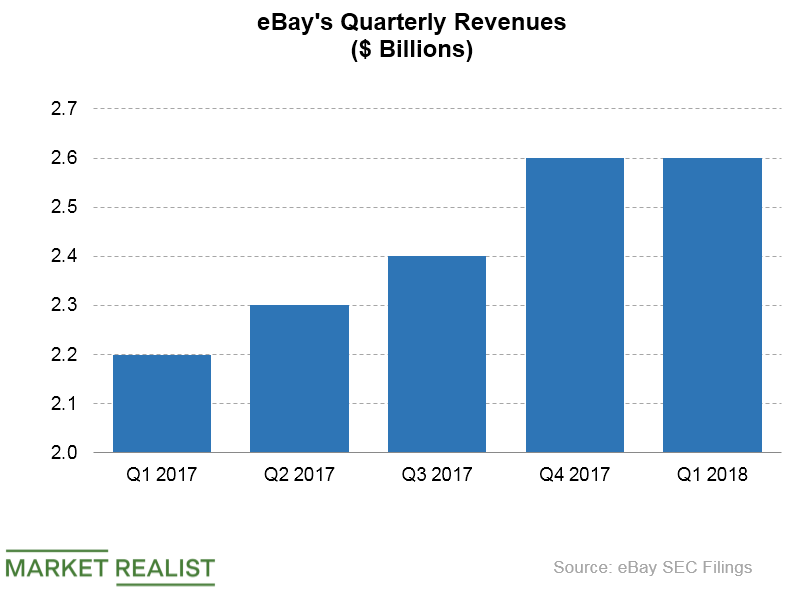 eBay Is Betting on Personalized Recommendations to Drive Sales
By Ruchi Gupta

Jun. 5 2018, Updated 9:03 a.m. ET
eBay lagged the competition in revenue growth
eBay (EBAY) is rolling out personalized shopping recommendations and landing page features to try to boost sales and improve customer retention amid fierce competition for consumers' online shopping budgets.
eBay's sales grew 12% YoY (year-over-year) to $2.6 billion in the first quarter, slower growth compared to the growth of online sales at Walmart (WMT) and Target (TGT) in the same period. Walmart and Target grew their online sales 33% and 28% YoY, respectively, in the first quarter. Amazon's (AMZN) sales grew 43% YoY in the first quarter.
Shoppers are invited to answer a few survey questions on their passions, hobbies, and style to unlock eBay's personalized shopping recommendations and custom homepage.
Article continues below advertisement
Helping shoppers discover their favorites
eBay matches shoppers' interests with their browsing patterns to help them discover things they love as well as things they might love, the company said in a statement. eBay's personalized shopping recommendations can be compared to how Netflix (NFLX) helps its subscribers discover shows and movies they might enjoy.
eBay reaches 171 million shoppers globally
In recent years, eBay has been working to build an image as an online retailer rather than an online auction platform. Therefore, the personalized shopping recommendation feature seems to fit with the company's efforts to transform its image. eBay reached 171 million shoppers globally in the first quarter.
As part of its efforts to boost its sales, earlier this year, eBay partnered with digital news publisher Mashable on shoppable images to simplify online shopping. The shoppable image feature simplifies product discovery and shopping on eBay for Mashable readers.