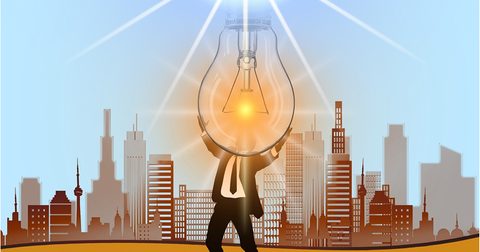 Did GE Calm Wall Street Anxiety with Unchanged Q2 Dividend?
By Samuel Prince

Updated
GE's Q2 2018 dividend
On June 8, General Electric (GE) announced a quarterly cash dividend of $0.12 per share on its outstanding common stock. This is GE's second dividend announcement after a 50% dividend cut in November 2017.
The dividend is payable July 25 to stockholders of record at the close of business on June 18. The ex-dividend date is June 15. The turbine manufacturer has ~8.7 billion equity shares outstanding as of June 13. The $0.12 per share dividend would result in a cash outlay of $1.04 billion for the company.
GE's quarterly dividend history
The John Flannery era marks the beginning of uncertainty about GE's dividend payment. In December 2016, Jeff Immelt, who was CEO then, declared a 4% rise in its quarterly cash dividend from $0.23 per share to $0.24 per share. However, Flannery was quick to stop the cash outgo amid a dim free cash flow situation. In November 2017, the industrial giant cut its yearly cash dividend to $0.48 per share from $0.96 per share paid earlier.
The company raised its cash dividend of $0.23 per share in Q3 2017 from $0.22 per share in Q4 2016. In the last five years, GE's dividend growth has sharply reduced from a double-digit rise to a low single-digit rise to negative.
Peer group's dividends and growth
Honeywell International (HON), GE's major industrial (XLI) peer, announced a 12% dividend in Q4 2017 to $0.745 per share from $0.665 per share in Q3 2017. 3M Company (MMM) increased its quarterly cash dividend by 16% to $1.36 per share in Q1 2018 from $1.175 in Q4 2017.
United Technologies (UTX) has maintained its dividend in the last four quarters. The company raised it by 6% to $0.70 per share in Q3 2017 from $0.66 per share in Q2 2017. Illinois Tool Works (ITW) has maintained its quarterly cash dividend at $0.78 per share since Q3 2017, which was raised from $0.65 per share in the second quarter of 2017.
The next section looks at GE's free cash flow levels.