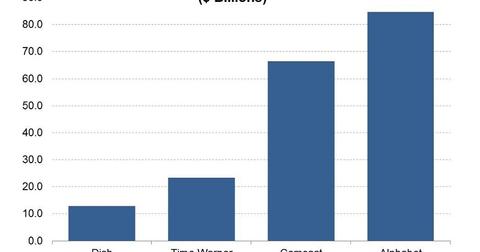 Comcast Settling Its Oregon Tax Dispute
By Ruchi Gupta

Updated
Comcast wanted to eliminate uncertainties
Comcast (CMCSA) recently settled a long-running tax dispute with the State of Oregon. The company agreed to pay $155.6 million to put the property tax dispute to an end. The settlement amount implies a discount of about 9.0% from the $170 million in back taxes that the state was seeking to claw from Comcast.
Comcast agreed to settle the tax dispute because it reasoned that a settlement would eliminate uncertainties and make its future property taxes more predictable.
Article continues below advertisement
Comcast disagree with Oregon's tax assessment
The dispute between Comcast and tax authorities in Oregon arose from a disagreement on how Comcast assets in the state should be assessed for tax purposes. Comcast balked at Oregon's 2009 decision to subject it to a broader tax assessment that also takes into account intangible assets. The issue at the center of the dispute was whether or not Comcast qualified as a communication company, which meant being subject to the broader tax assessment. In a 2014 decision, the state's Supreme Court ruled against Comcast.
Comcast tax bill in Oregon set to rise
Comcast agreed to pay more taxes in Oregon in future than it in the past as part of the settlement, and that could drive up its expenses. Comcast reported income tax benefit of $7.5 billion last year due to the overhaul of the US tax law. Its operating expenses were $66.5 billion last year. Google parent Alphabet (GOOGL), Time Warner (TWX), Dish Network (DISH), and Netflix (NFLX) respectively reported operating expenses of $84.7 billion, $23.3 billion, $12.8 billion, and $11.0 billion last year.