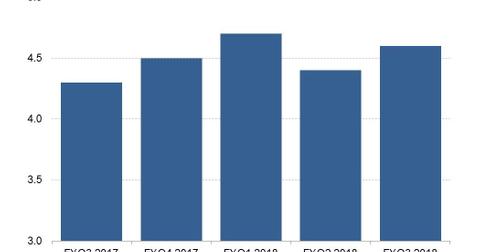 Cisco Working to Slash Its $500 Million Healthcare Bill
By Ruchi Gupta

Updated
Cisco's healthcare costs rising 4%
Cisco Systems (CSCO) has launched an ambitious effort to curb its rising costs. The company's operating expenses jumped 7.0% year-over-year to $4.6 billion in its fiscal third quarter, which ended in April. Its operating expenses reached $17.2 billion in fiscal 2017.
Cisco Systems spent $500.0 million on healthcare last year. The company's annual healthcare costs have been rising 3.0%–4.0% in recent years, and it's trying to trim those costs.
Stanford Health plan is 10% cheaper than regular plans
To slash its massive healthcare bill, Cisco Systems has bypassed health insurers and other brokers in the sector to negotiate health plans for its employees directly with the Stanford Health Care medical system. Although Stanford Health Care currently provides care for just a handful of Cisco Systems employees, Cisco told Reuters that costs for the Stanford Health Care plan patients are 10.0% lower than its regular health coverage.
However, Cisco Systems isn't alone in negotiating with hospitals directly to try to lower its healthcare expenses. Intel (INTC), Boeing (BA), and Walmart (WMT) are other major American employers trying to slash their healthcare costs by working directly with providers instead of going through brokers. Intel, for example, is saving 17.0% on workers enrolled in a plan similar to the one Cisco has with Stanford Health Care.
Amazon creating healthcare program for employees
Amazon, JPMorgan (JPM), and Berkshire Hathaway (BRK) have also joined forces to pursue their solution to rising healthcare costs. The three companies announced in January that they would create a new health program for their employees.