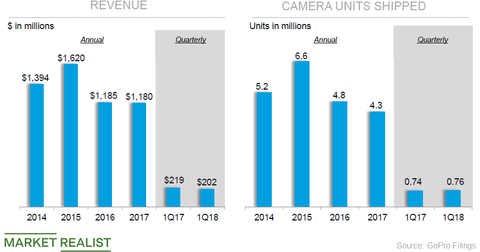 Can GoPro's Management Successfully Turn the Company Around?
By Adam Rogers

Updated
Shares up 34% since first-quarter results
GoPro (GPRO) announced its first-quarter results on May 3, and the company's stock has risen almost 34% since then. GoPro stock is currently trading at $6.64, which is 50% higher than its 52-week low of $4.42 and 44% lower than its 52-week high of $11.89.
GoPro's stock price rose as the company beat analysts' earnings estimates in the first quarter. Analysts had expected GoPro's revenue to fall 16% in the first quarter to $184.1 million with EPS of -$0.38. Instead, the company reported revenue of $202.3 million and EPS of -$0.34.
GoPro stock reached an all-time high of $98.47 in October 2014, which means it's seen a significant fall of 93% over the last three and a half years. This fall in its share price has been the result of a decline in its revenue. GoPro's revenue has fallen from $1.6 billion in 2015 to $1.19 billion in 2016 and $1.18 billion in 2017.
Launch of new products
GoPro has tried to launch several new products, such as the Karma drone and the Fusion camera, over the last two years. While GoPro has exited the drone business, it's banking on the Fusion 360-degree camera to drive its sales. GoPro claims to have a 41% share in the 360-degree camera vertical.
We've also seen how GoPro has introduced products at various price points and reduced the prices of old products to move inventory and increase sales. The lower-priced products have impacted the company's profit margins and average selling prices, as we've learned in previous articles.
GoPro is now targeting overseas markets that account for ~60% of its total revenue, and it's optimistic about sales in Europe and Japan (EWJ).
The company might also be successful in selling its lower-priced cameras in emerging markets (EEM) such as India (INDA), China (FXI), and Thailand. However, investors may not be so bullish on the stock, as its revenue is expected to fall 4.4% in 2018 and rise just 3% in 2019.