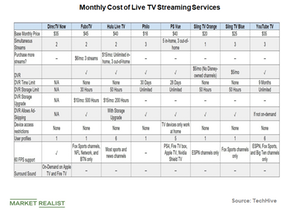 Can AT&T's WatchTV Streaming Service Combat Digital Rivals?
By Sophia Nicholson

Updated
AT&T launches live TV streaming service
AT&T (T) recently announced its new live TV streaming service, WatchTV, amid the growing popularity of online streaming services. AT&T's WatchTV service is expected to be available for no cost for AT&T wireless customers with unlimited data plans. The streaming service is expected to cost $15 per month for customers of other carriers such as Verizon, Sprint, T-Mobile, or any carrier other than AT&T.
AT&T looking to grow its subscriber base 
AT&T has been struggling to grow its subscriber base. As reported in its first-quarter results, AT&T added 2.6 million net new subscribers to its domestic wireless networks, mainly from connected devices and prepaid subscribers. However, the company lost 22,000 postpaid phone subscribers in the quarter due to cord-cutting.
Streaming giants Netflix (NFLX), Amazon's (AMZN) Prime, and Alphabet's (GOOGL) YouTube are offering online video services at a lower cost than traditional cable services. This trend is attracting a large number of customers, especially in the younger demographic.
Amid a declining pay-TV subscriber base, AT&T launched its streaming service offering, DIRECTV NOW, to attract more customers. Dish Network (DISH) also has a similar streaming service—Sling TV. Although AT&T's WatchTV service is expected to draw customers in the near term, the service doesn't offer any sports channels at this time. 
Investment in television services
The growing investment in online television services comes as customers are moving away from costlier pay-TV subscriptions. A traditional cable service can cost $100 or more each month. However, a basic plan for AT&T's DIRECTV NOW as well as YouTube TV is $35 per month. 
Dish Network's Sling TV Orange is available for $20 per month, and Sling TV Blue is available for $25 per month. Other programming options, such as sports packages, can be added on an à la carte basis.
Amazon Prime costs about $119 per year. Hulu Live TV and Sony's PlayStation Vue can be viewed at $40 per month. The cost of FuboTV is $45 per month.