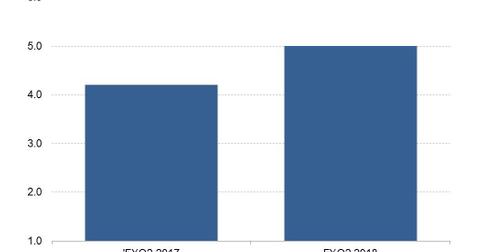 Broadcom's Expenses May Keep Falling
By Ruchi Gupta

Updated
Operating expenses declined 10%
Broadcom (AVGO) has eliminated about 1,100 jobs since it closed its $5.5 billion acquisition of Brocade last November. The layoffs have been implemented as part of its cost-cutting initiatives. Broadcom continues to evaluate its resources and may cut more jobs, according to a regulatory filing cited by Reuters.
Broadcom reported its fiscal second-quarter[1. fiscal Q2 2018 ended May 6] results on June 7. Despite Broadcom incurring restructuring charges in the quarter, it was still able to lower its costs. Broadcom's operating expenses fell to less than $1.4 billion in the latest quarter, down 10.0% YoY (year-over-year).
Qualcomm's expenses rose nearly 12%
Qualcomm's (QCOM) expenses rose 11.6% YoY in its fiscal second quarter.[2. fiscal Q2 2018 ended March] Advanced Micro Devices (AMD) and IBM (IBM) saw their operating expenses jump 21.1% and 9.2% YoY, respectively, in the quarter ended in March. Intel's (INTC) operating expenses declined 3.6% YoY in the same period.
More job cuts could allow Broadcom to whittle down its operating costs and preserve funds to invest in driving growth or return to shareholders. Broadcom's revenues rose 20.0% YoY to $5.0 billion in the fiscal second quarter.
$12 billion repurchase program
Broadcom intends to repurchase $12.0 billion of its shares between now and November 2019.
"The initiation of a stock repurchase program enhances our capital allocation strategy and provides us with a complementary tool to deliver value to our shareholders," said Broadcom CFO Tom Krause. 
Krause continued, "We are maintaining our policy of delivering 50% of trailing 12-month free cash flow to shareholders in the form of dividends while adding the ability to use the balance of our free cash flow not only for acquisitions but also for opportunistic buybacks." 
Broadcom unsuccessfully attempted to acquire Qualcomm earlier this year.