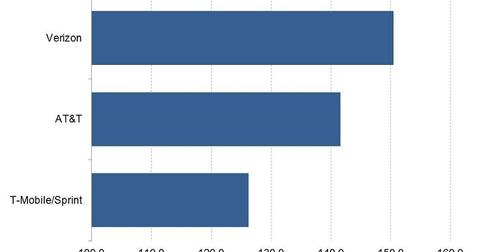 AT&T Aims to Resolve Complaint about Unlimited Data Plans
By Ruchi Gupta

Updated
AT&T rejects claim of speed throttling
AT&T (T) is in talks with the FTC (Federal Trade Commission) to resolve a complaint claiming the company shortchanged customers who had purchased unlimited data plans. In a 2014 lawsuit, the FTC claimed that AT&T sold unlimited data plans that were not truly unlimited. The federal agency alleged in the suit that while AT&T was charging customers for unlimited data plans, the company was throttling data speeds after customers consumed a certain amount of data. Although the FTC viewed the speed throttling as a scandal, AT&T argued that there was nothing secret about the practice because it had disclosed everything to customers.
Deadline passes without AT&T heading to Supreme Court
However, a federal appeals court disagreed with AT&T. Although AT&T indicated it would challenge the appeals court's verdict through the Supreme Court, it had not done so as of the deadline, May 29.
"We have decided not to seek review by the Supreme Court, to focus instead on negotiating a fair resolution of the case with the Federal Trade Commission," said AT&T spokesman Mike Balmoris, according to Reuters.
The return to unlimited plans
AT&T and Verizon (VZ) stopped selling unlimited data plans to new customers around 2011 because they determined that unlimited plans were not an economically sound business strategy. However, they returned to selling unlimited data plans last year in response to competition from smaller rivals T-Mobile (TMUS) and Sprint (S).
Since 2011, AT&T and Verizon have made significant investments to improve their networks, and they can now support unlimited plans without the problems they faced in the past, where high demand for data traffic impacted service quality.
The rise of online video services such as Netflix (NFLX) is fueling demand for unlimited data plans. AT&T closed the first quarter with 141.6 million wireless customers, according to Strategy Analytics.