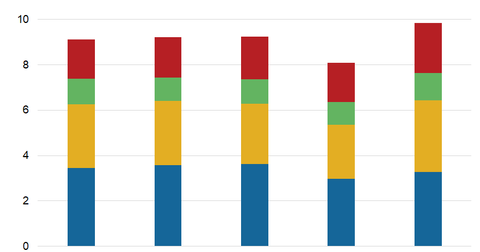 Asia's Rising Share in Citi's Institutional Clients Group
By Robert Karr

Updated
Investment banking earnings
Citigroup's (C) ICG (Institutional Clients Group) segment garners revenues from underwriting—equity and debt, private banking, and trading activities. Citi's investment banking revenues have weakened in recent quarters, which is in line with the industry's performance.
Citigroup's investment banking declined 10.0% on a lower number of closures in the quarter. Weaker equity markets have dented the performance of investment banking segments and companies. JPMorgan Chase (JPM) continues to rank first in the segment.
As the rate cycle stabilizes marginally, we can see a jump in transaction closures. For 2018, this outlook remains weaker for investment banking revenues.
Private banking
Citigroup is registering strong growth in private banking, corporate lending, and Treasury solutions. This trend is expected to continue in the second quarter with marginal pressure on corporate lending.
In the first quarter, Citigroup's Private Banking segment posted 21.0% growth in revenues, Corporate Lending increased 19.0%, and Treasury Solutions rose 8.0%. Business outside the US is gaining traction, and Europe, Asia, and Latin America are registering sequential and year-over-year growth.
Among the emerging markets, China is facing strong headwinds from trade war concerns. India can be a major growth market with strong growth across sectors.
Trading revenues
Among the major banks (XLF), Bank of America (BAC) and Goldman Sachs (GS) are registering strong trading gains on investments in technology and diversified product offerings. Citi's reliance on debt offerings is putting some pressure on growth with respect to its peers in 2018 on the rate hike outlook.
Citigroup's market and securities revenues rose 3.0% to $5.0 billion in the first quarter. Overall, ICG's net income climbed 11.0% in the first quarter to $3.3 billion on lower credit costs and taxes as well as higher revenues.