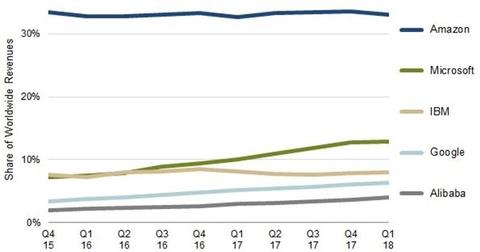 Are Customers Cutting Spending with Oracle?
By Ruchi Gupta

Updated
Intention to cut spending with Oracle
Oracle (ORCL) appears to be lagging in the competition to Amazon (AMZN) and Microsoft (MSFT) in the cloud computing business. According to J.P. Morgan analysts, Oracle is slipping among enterprise technology buyers.
J.P. Morgan analysts, led by Mark Murphy, surveyed 154 chief technology officers and found that the majority of them intend to cut their spending with Oracle this year. Just 2.0% of the surveyed chief technology officers mentioned Oracle as their most integral vendor, the analysts wrote in a note to clients cited by CNBC. In contrast, 27.0% of the respondents mentioned Microsoft as their most integral vendor, while 12.0% cited Amazon as their most integral vendor.
Article continues below advertisement
Shift to cloud rattling Oracle's database business
Although Oracle has dominated the database business for decades, Microsoft and Amazon are posing tough competition with their alternative database products and solutions. While Oracle is one of the notable cloud vendors, it lags behind Amazon, Microsoft, and Alphabet's (GOOGL) Google, as shown in the chart above. The enterprise shift to cloud computing is disrupting its database business.
Oracle is also set to face increased competition from Adobe Systems (ADBE), which is acquiring Magento to strengthen its campaigns for revenue in the digital commerce services market. Oracle and SAP SE (SAP) are among the prominent vendors of cloud-based commerce services.
Stock downgraded and price slashed
In light of the survey showing Oracle slipping with technology buyers, J.P. Morgan downgraded Oracle stock to "neutral" from "overweight." The Wall Street firm also slashed its price target on Oracle stock to $53.00 from $55.00.