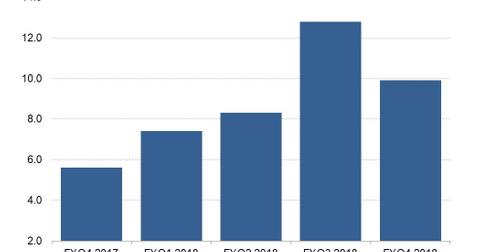 Alibaba Moves Closer to 72-Hour Global Delivery
By Ruchi Gupta

Updated
Alibaba partners with UAE on deliveries in the Middle East
Alibaba (BABA) has dreams: it wants to be able to ship e-commerce orders in China within 24 hours and globally within 72 hours. On top of this, the Chinese e-commerce giant wants to be able to offer faster and more accurate delivery to its customers wherever they are, according to a recent shareholder update.
Alibaba recently partnered with Emirates SkyCargo to move toward its goal of shipping orders across the globe within 72 hours. Emirates is the flagship carrier of United Arab Emirates (or UAE), and SkyCargo is its freight division.
Alibaba works to shorten package delivery time
Under the partnership, Alibaba's logistics unit, Cainiao, and SkyCargo will cooperate to facilitate Alibaba's e-commerce deliveries in the Middle East and the neighboring region. In partnering with SkyCargo, Alibaba is looking to take advantage of the UAE's wide network and frequent flights from China to speed up the delivery of its e-commerce orders.
In March, Alibaba launched its first e-commerce–dedicated intercontinental flight, the likes of which have allowed it to significantly reduce the delivery time of packages shipped from China to Russia.
Cainiao contributed $1.1 billion to Alibaba's top line
As mainstream e-commerce companies such as Alibaba, Amazon (AMZN), eBay (EBAY), and JD.com (JD) have largely closed the technological gap with one another, they're now working to differentiate themselves by being able to ship customer orders in the shortest time and as accurately and efficiently as possible.
Alibaba booked $1.1 billion in revenue from its Cainiao subsidiary in the first quarter, which is its fiscal fourth quarter. Alibaba's overall revenue in the quarter rose 61% YoY (year-over-year) to $9.9 billion in the quarter. Walmart's (WMT) revenue jumped 4.4% YoY in the same period.