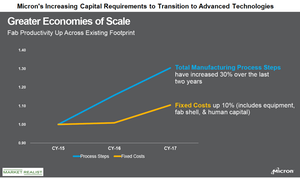 Advanced Technologies Increase Micron's Capex
By Puja Tayal

Jun. 18 2018, Updated 9:00 a.m. ET
Micron's capex
Micron Technology (MU) is investing in technology innovation. It's also looking to reduce the time it takes to ramp up its production of these new technologies and accelerate the customer qualification process to enhance its return on investment.
Micron's move to advanced nodes is increasing its capital requirements. In fiscal 2017, it spent $4.7 billion in capex. In the first half of its fiscal 2018, the company spent $4.2 billion, yet it still has another two quarters to go. None of this spending has been on wafer capacity expansion. Instead, it's been on technology transitions.
Article continues below advertisement
Advanced technologies are capital intensive
At its 2018 Investor Day event, Micron's executive vice president of global operations, Manish Bhatia, explained that with every node shrink, technology is becoming more complex. Over the last two years, the number of process steps required to manufacture one wafer has increased, thereby increasing capital spending by 30%. More steps require more equipment, and more equipment requires more cleanroom space just to maintain the same wafer output capacity. This requirement has increased capital spending by another 10%.
Bhatia added that the amount of capital spending required to support technology development, IT, assembly and tests, and other capex has increased 130% over the last two years.
Where is Micron spending its capital?
Micron is spending capital on the addition of 10% more cleanroom space in its Japan fabs (fabrication facilities) to support the development of next-generation 1Y DRAM (dynamic random-access memory). It's also adding 35% more cleanroom space to its Singapore fab to support the development of third-generation 96-layer 3D NAND (negative AND). It's also growing its assembly and test capability in Taiwan.
Rival Samsung (SSNLF) is also spending $12 billion to expand its DRAM fabs in South Korea, and SK Hynix is building a NAND flash facility in China and upgrading a DRAM plant.
Next, let's see if Micron has the financial flexibility to meet its increasing capital requirements.