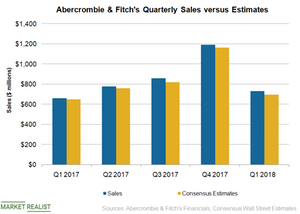 Abercrombie & Fitch's First-Quarter Sales Jumped 11%
By Victoria Dean

Updated
Sales up 11%
Abercrombie & Fitch (ANF) reported first-quarter sales of $730.9 million, up 11% on a YoY basis. In comparison, sales in the first quarter of 2017 were unchanged on a year-over-year basis. Sales for the fiscal first quarter of 2018 beat the analyst estimate by 5.1%. Favorable forex added 4% to sales growth in the first quarter, while the calendar shift added $10 million.
Abercrombie & Fitch expects comps and sales growth of 2%–4% in fiscal 2018. Favorable foreign exchange movement is expected to add $50 million to sales in fiscal 2018. The loss of the 53rd week this year is likely to impact sales by $40 million.
Sales numbers in detail
The US segment was the biggest contributor to the top line with sales of $449.1 million, an increase of 10%, while the international segment added $281.8 million, an increase of 12%, to the top line. Brand-wise, Hollister and Abercrombie & Fitch reported sales growth of 13% and 7%.
The company's comps (comparable store sales) grew 5% in the first quarter, with US comps increasing 8% YoY and international comps remaining unchanged. Hollister comps grew 6%, as performances in both North America and Asia were robust. Abercrombie comps grew 3% driven by the improved performance of the brand in North America, according to the management.
D2C business is impressive
Abercrombie & Fitch has been focusing on enhancing its digital sales channel as it tries to retain market share amid the growing clout of online retailers. It seems like the focus on digital sales has paid off for the company. The company's D2C (direct to customer) sales channel rose 14% to $200.7 million, comprising 27% of overall sales. Mobile continues to be the biggest contributor to digital sales. Notably, the company's mobile app contributed to 17% of mobile traffic.
To boost the digital business further, the company added that it has new services like POPinS (purchase online and pickup in store) and ship-from-store in about ten of the countries where it has operations. The company is also focused on reducing shipping costs. Retailers are facing higher shopping costs on account of increasing digital sales, which in turn are denting margin performance. The company is also enhancing its marketing expenditure to boost sales.