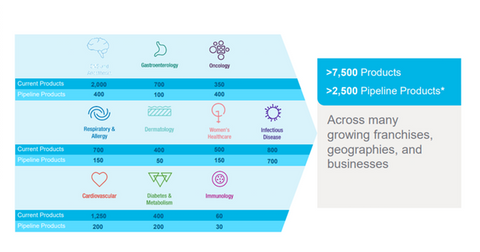 A Look at Mylan's Launch of Its Generic Angiomax Injection
By Sarah Collins

Updated
Mylan's recent launch of its generic Angiomax injection
On June 1, Mylan (MYL) announced the launch of a generic version of the Medicines Company's (MDCO) Angiomax, also known as bivalirudin.
The drug is available in injection form in a 250 mg single-dose vial. The drug, which is a direct thrombin inhibitor, is used as an anticoagulant with aspirin.
Mylan has more than 7,500 products in its diversified portfolio, which it markets around the world. The company has 199 ANDAs (Abbreviated New Drug Application) pending approval by the FDA, 45 of which are potential first-to-file applications, as per IQVIA data as of December 31, 2017.
Article continues below advertisement
Mylan's commercial plans for generic Angiomax
Mylan has received FDA approval for its ANDA for its generic Angiomax drug. It's offering the drug to hospitals and institutional customers.
According to IQVIA data, over the last fiscal year, which ended on March 31, bivalirudin for injection in a 250 mg single-dose vial generated sales of ~$106 million in the United States.
FDA-approved indications for bivalirudin for injection
The FDA has provided approval for the use of bivalirudin for injection as an anticoagulant along with aspirin in the indications listed below:
patients undergoing PTCA (percutaneous transluminal coronary angioplasty) who have unstable angina
patients undergoing PCI (percutaneous coronary intervention) with provisional use of GPI (glycoprotein IIb/IIIa inhibitor)
patients undergoing PCI who are suffering from or at the risk of HIT (heparin-induced thrombocytopenia) or HITTS (heparin-induced thrombocytopenia and thrombosis syndrome)
Pfizer (PFE), Dr. Reddy's Laboratories (RDY), and Accord Healthcare are some of the other companies that market generic versions of Angiomax in the United States.
In the next article, we'll discuss the FDA's approval of Mylan's biosimilar to Amgen's Neulasta.
Check out all the data we've added to our quote pages. Now you can get a valuation snapshot, earnings and revenue estimates, and historical data as well as dividend info. Take a look!