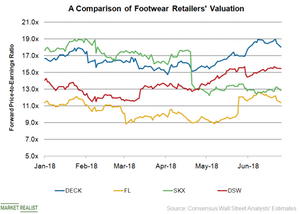 A Look at Footwear Retailers' PE Valuation Numbers
By Victoria Dean

Updated
Deckers has a relatively high PE multiple
On June 25, Deckers Outdoor (DECK) traded at a 12-month forward PE (price-to-earnings) multiple of 18.0x, which is higher than the valuation multiples of the other footwear retailers. In contrast, Foot Locker (FL), Skechers (SKX), and DSW (DSW) are trading at 12-month forward PE multiples of 11.4x, 12.8x, and 15.5x, respectively.
The forward PE multiple is calculated by dividing a stock's price by Wall Street's projections for the next four quarters. The PE multiple is frequently used when making investment decisions.
Changes in PE multiples after recent quarterly results
On June 25, Deckers' valuation multiple increased 5.6% after its fiscal fourth-quarter results, which were announced on May 24. DSW witnessed a 4.5% increase in its valuation multiple after the company posted its first-quarter results on May 30.
Foot Locker's valuation multiple declined 5.5% despite its strong first-quarter results, which it announced on May 25. Skechers' valuation declined 26.6% after it reported its results on April 19. Although these results topped Wall Street estimates, the underwhelming outlook for the second quarter has kept investors on edge.
Comparison of growth projections
For fiscal 2019,[1. fiscal 2019 ending March 31, 2019] Wall Street expects Deckers to report sales and adjusted EPS growth of 1.7% and 10.1%, respectively. The company' sales are expected to take a hit as UGG brand sales underwhelmed analysts due to store closures, as well as the allocation and segmentation of franchises.
For fiscal 2018, DSW is expected to deliver revenue and adjusted EPS growth of -1.4% and 6.6%, respectively.
For fiscal 2018, Foot Locker is expected to witness sales and adjusted EPS growth of 0.1% and ~10.0%, respectively. Its top line could benefit from its increased sales of premium products along with its strengthening digital business.
For fiscal 2018, Skechers' sales and adjusted EPS growth rates are expected to be 13.5% and 18.5%, respectively. The company is focusing on innovation and the lucrative kids' footwear category. Its digital business and international operations have been gaining robust traction.