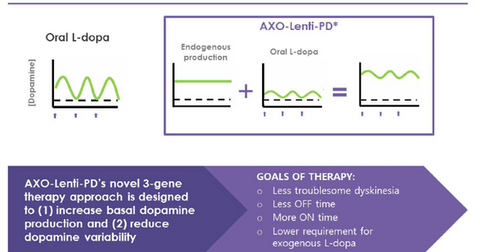 A Look at Axovant Sciences' Therapy for Parkinson's Disease
By Margaret Patrick

Updated
AXO-Lenti-PD gene therapy
Axovant Sciences (AXON) and Oxford Biomedical aim to develop AXO-Lenti-PD gene therapy as a long-term treatment for PD (Parkinson's disease). Once administered using MRI[1.magnetic resonance imaging]-guided stereotactic delivery, this gene therapy could help reduce motor fluctuations resulting from depleting dopamine levels in the brain.
Based on the LentiVector platform, AXO-Lenti-PD gene therapy focuses on three genes critical for encoding enzymes required for endogenous dopamine production. The company expects the integration of administered lentiviral vectors with patients' genome to result in long-term gene expression, boosting endogenous dopamine production for several years.
Successful proof-of-concept studies
Axovant Sciences' confidence in AXO-Lenti-PD gene therapy stems from favorable outcomes from Phase 1 and 2 studies evaluating ProSavin. After being administered ProSavin through an MRI-guided stereotactic system, test subjects demonstrated statistically significant motor function improvement after four months, six months, and four years of therapy.
AXO-Lenti-PD gene therapy has been developed by reengineering ProSavin to improve dopamine plus levodopa production by ten times.
Oxford BioMedica also manufactured and supplied lentiviral vectors to Novartis (NVS) for the first FDA-approved CAR[2. chimeric antigen receptor]-T-cell therapy, Kymriah. Oxford BioMedica has also entered into a licensing agreement with Bioverativ, which is now part of Sanofi (SNY), for lentiviral vector technology to treat hemophilia and ophthalmological disorders.