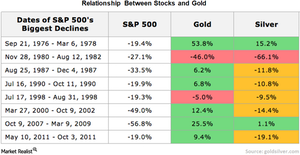 Will Gold Stocks Rebound from Their Current Levels?
By VanEck

Updated
VanEck
Increased risk and volatility should lead investors back to gold stocks
If we are right in our late-cycle assessment, gold and gold stocks stand to benefit if the current market, characterized by confidence and complacency, transitions to one filled with risks and volatility. We believe that once generalist investors take the time to assess gold stocks, they will like what they see — companies with strong balance sheets, cost containment, and good cash flow run by managements incentivized by profitability and shareholder returns. Under the right conditions, it probably won't take long for the global gold mining sector with a market capitalization of just $250 billion to fill the valuation gap and regain its historic beta to gold.
Article continues below advertisement
Market Realist
Gold stocks can recover sharply after correction
Gold stocks are extremely cyclical. They can recover sharply after a steep correction, unlike their broad-equity-market counterparts. The chart below shows the periods of severe downturns in the S&P 500 Index (SPY) since 1976. Gold edged higher in six of the eight market crashes while, in one instance, stock returns were far lower than gold. In only one instance did gold's returns come in lower than stocks'. This difference indicates that gold rallies when equities are in a downturn. Accordingly, if the current stock market rally has to falter any time soon, the best asset class to invest in would be gold.
Advantage gold miners
In that kind of scenario, gold miners' (GDX) stocks could provide impressive gains. The twin benefit of rising prices and renewed operating efficiencies gained by many miners as a result of business restructuring is likely to benefit them once the cycle turns around conclusively in gold's favor.
After reporting improved earnings growth in 4Q17, many gold miners are set to repeat or even exceed the performance in 1Q18. Barrick Gold (ABX) reported EPS (earnings per share) of $0.15, representing a beat of $0.01 on consensus expectations. Newmont Mining (NEM), Agnico Eagle Mines (AEM), and Eldorado Gold (EGO) have also reported healthy numbers for 1Q18, beating Wall Street estimates. In all likelihood, we could see healthy earnings growth translate into better stock performance in the near future.