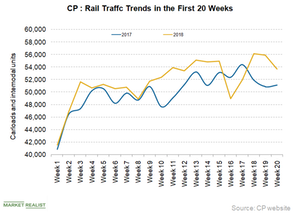 Will a Strike Halt Canadian Pacific Railway's Growth Engine?
By Samuel Prince

Updated
Labor strike
Canadian Pacific Railway's (CP) workers have some wage- and fatigue-related issues with the company. In April, a strike was averted due to intervention by the Canadian government. Canada's labor minister, Patty Hajdu, assured that she would ask the Canadian Industrial Relations Board to monitor a ratification vote on each of CP's latest offers to the two unions.
On May 26, the TCRC (Teamsters Canada Rail Conference) and IBEW (International Brotherhood of Electrical Workers) issued a notice to the company. According to the notice, the unions plan to carry out a strike on May 29. The unions have given more than the required 72-hour notice to Canadian Pacific Railway. Both unions rejected CP's latest contract offer.
Article continues below advertisement
A past history of strikes
CP's train crews have participated in two strikes in the last few years. In 2015, they ended a temporary halt and got ready for arbitration after a back-to-work legislation threat by the previous government under then–Prime Minister Stephen Harper. In 2012, the Canadian government enacted a back-to-work legislation that ended a ten-day strike.
TCRC's ~3,000 members voted ~98% against Canadian Pacific's latest offer on May 25. IBEW, which represents ~360 signal and communications workers, voted 97% against the offer. CP expects to reach a conclusion with TCRC and IBEW.
Why this may be bad for CP
The Association of American Railroads' weekly rail freight data reveal that Canadian freight shipments are on a strong growth path year-over-year. The strike could result in solid disruptions that affect not only CP but also rival Canadian National Railway (CNI).
Right now, rail capacity is very tight in Canada. CP and CNI are witnessing solid demand for potash, grain, and other commodity carloads. These companies' pricing powers could be affected as customers search for alternate transportation methods.
A look at XTN
The SPDR S&P Transportation ETF (XTN) is a benchmark ETF in the US transportation and logistics (CHRW) sector. If you're bullish on transportation companies' prospects over the next few months, consider investing in XTN. This ETF holds 13.1% in major railroad companies (UNP) and 25.2% in key trucking companies (JBHT) in the United States.
In the last article, we'll value Canadian Pacific Railway alongside its peer group.