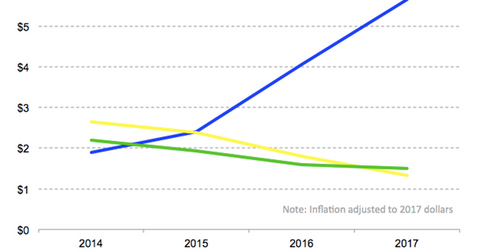 Why Sony and Warner Music Group Sold Their Stakes in Spotify
By Sanmit Amin

Updated
Big music labels are selling their stakes in Spotify
Spotify (SPOT) gave a stake to several music labels in its nascent stages as it was ramping up its subscription service, with Sony (SNE) having the biggest stake among the music labels. Now that the Swedish streaming company has gone public, many of these companies are selling their stakes, reaping the rewards of the company's high valuations.
Sony sold part of its stake in Spotify in April and noted that it sold half of its stake in Spotify for $750.0 million earlier this month. Warner Music Group said it sold 75.0% of its stake in Spotify on May 7, garnering around $400.0 million.
Article continues below advertisement
What does this mean for Spotify?
While Spotify's (SPOT) gross margin is rising, major music labels still capture a good portion of the company's revenues. Streaming companies like Spotify have helped revive the global music industry's revenues and have reduced piracy. The sale of Spotify stock doesn't necessarily reflect a negative outlook by these companies toward the music streaming company.
However, it does highlight the advantage of going public through the direct listing method, which Spotify used. Although Spotify didn't raise any money through its IPO, it saved a lot of money it would have otherwise paid to investment banks while allowing early investors to cash out.