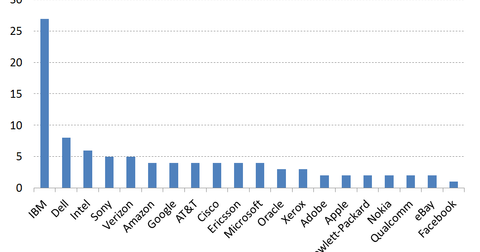 Why IBM's Blockchain Lead Could Be in Jeopardy
By Anne Shields

Updated
Increased interest in blockchain
Earlier, we discussed Amazon's (AMZN) launch of AWS (Amazon Web Services) Blockchain Templates, which marked the company's entry into the highly publicized blockchain space.
During its analyst conference in Shenzhen last week, Huawei, a leading smartphone player, announced BCS (BlockchainCloud Service), a new BaaS (blockchain-as-a-service) platform built on Hyperledger. Chinese (FXI) companies Baidu (BIDU) and Tencent Holdings also jumped on the blockchain bandwagon this year.
Article continues below advertisement
IBM holds maximum patents in blockchain technology in the tech space
Earlier in this series, we got to know that after blockchain-focused companies, finance and technology companies have the maximum number of patents in blockchain technology. Among technology companies, IBM held the maximum number of patents. Other tech companies Microsoft (MSFT), Google (GOOG), Oracle (ORCL), and Facebook (FB) have yet to become active in blockchain-related patenting.
Amazon (AMZN) falls under the retail industry, which holds a combined 2% of blockchain patents in the United States.
Now, this space has caught the attention of Amazon, the undisputed leader in the cloud space. Amazon's move into the blockchain space could be a big blow to the companies already operating there.