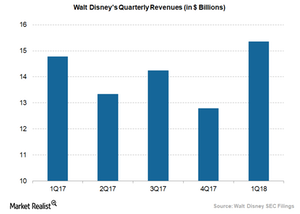 Why Fox Might Favor Disney's Bid despite Comcast's Higher Offer
By Sophia Nicholson

Nov. 20 2020, Updated 5:01 p.m. ET
Comcast's offer for Fox assets
As per a report from Reuters, Comcast (CMCSA) is eyeing some of the media and entertainment assets of 21st Century Fox (FOXA), threatening Disney's (DIS) bid for those assets. Though the actual offer value isn't known, Comcast is looking to offer a better price for Fox's assets, which Disney had agreed to buy for $52.4 billion in December 2017.
However, Comcast wants to move ahead with its bid only after the court gives regulatory approval to the long-delayed merger of AT&T (T) and Time Warner (TWX).
Article continues below advertisement
Why is the AT&T-Time Warner merger important for Comcast?
US regulators have become stringent about approving mergers. Earlier, a "vertical merger" like AT&T and Time Warner, where two companies with different competitors were merging, didn't involve too much regulatory scrutiny. However, the delay in the proposed $85.4 billion merger of AT&T and Time Warner has left media companies worried about getting regulatory approvals.
The uncertain regulatory environment convinced Rupert Murdoch, with around a 17% stake in 21st Century Fox, to sell assets to Disney to avoid any regulatory issues.
Comcast had attempted to acquire Fox's entertainment networks, movie studios, television production, and international assets in November 2017 in an all-stock deal valued at $34.41 per share or $64 billion. However, Fox agreed to move ahead with an all-stock deal with Disney's lower offer of $29.54 per share. Other than Disney and Comcast, Fox attracted many bidders—like Verizon and Sony—for its assets.
Preference for Disney over Comcast
On a different note, the Reuters report also stated that Murdoch prefers Disney's all-stock deal rather than Comcast's all-cash offer for Fox assets to make the transaction non-taxable for shareholders. If sources are to be believed, Murdoch might not prefer to go ahead with Comcast's all-cash offer.
According to Fox, a deal with Disney is expected to generate higher long-term value, as Disney's stock can be viewed as more valuable than Comcast's, based on historical prices and as per last month's regulatory filing reported by Reuters.