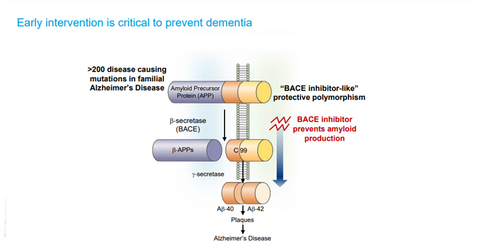 Why Did JNJ Scrap Its Alzheimer's Drug Mid-Stage Trial?
By Sarah Collins

Updated
JNJ scraps its Alzheimer's drug trials
Late last week, Johnson & Johnson (JNJ) announced that it was scrapping its mid-stage trial for the development of the treatment of Alzheimer's disease, EARLY, which was in Phase 2b/3.
The trial was testing the BACE inhibitor atabecestat. It started in 2015 and was to complete in 2024. Johnson & Johnson is the latest in a series of companies, including Pfizer (PFE), Merck & Company (MRK), and Eli Lilly and Company (LLY), that have abandoned trials for their Alzheimer's drug candidates. However, lanabecestat, a BACE inhibitor being tested by Eli Lilly and AstraZeneca (AZN), is in late-stage trials and is expected to report results within the next year.
Article continues below advertisement
According to the Alzheimer's Association, ~5.5 million people in the United States are affected by Alzheimer's disease. The potential market opportunity for the disease is expected to reach $14.8 billion by 2026. According to analysts, the successful development of a drug for the treatment of this condition would present an opportunity for a company to earn billions of dollars worth of sales annually.
Currently, the drugs available for Alzheimer's don't treat the underlying cause of the disease but rather mask its symptoms. A treatment that could delay or stop the disease's progression would be a breakthrough innovation in the Alzheimer's treatment space.
The treatment mechanism, which uses BACE inhibitors, is found to reduce amyloid plaque formation and modify the progression of Alzheimer's disease. This mechanism is being targeted for new treatment therapies for the disease by a number of pharmaceutical companies, including Eli Lilly, Novartis (NVS), and Merck.
Why did JNJ scrap the EARLY trial?
Johnson & Johnson stated that it was stopping the trial not because of efficacy issues but because of liver safety concerns with its BACE inhibitor, atabecestat. The company was administering the drug to slow the cognitive decline of patients who were progressing to Alzheimer's dementia, and it observed liver enzyme elevations in some of the trial's participants. It carried out a thorough evaluation following the observations and concluded that "the benefit-risk ratio is no longer favorable to continue development of atabecestat for people who have late-onset preclinical stage Alzheimer's disease."
Over the years, nearly 99% of Alzheimer's studies have failed due to efficacy or safety issues, so the development hasn't affected future growth estimates for Johnson & Johnson, as the probability of failure for such trials is usually expected to be high.