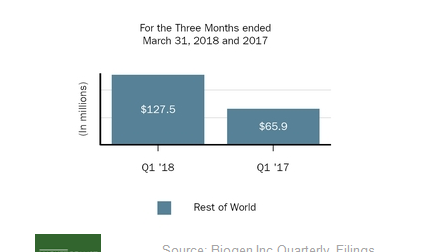 Why Did Biogen and AbbVie Recall Zinbryta?
By Kenneth Smith

May. 8 2018, Published 7:17 a.m. ET
Revenues from other products
Biogen's (BIIB) other products include Fumaderm, Benepali, and Flixabi. Sales of Fumaderm decreased from $9.7 million in 1Q17 to $7 million in 1Q18. On the other hand, sales of Benepali increased from $65.3 million in 1Q17 to $120.9 million in 1Q18, and Flixabi sales grew by ~1,100% from $0.6 million in 1Q17 to $6.6 million in 1Q18.
Article continues below advertisement
Withdrawal of Zinbryta
Biogen's Zinbryta, which was developed and commercialized in collaboration with AbbVie (ABBV), was approved in the US in May 2016 and in the EU in July 2016 for the treatment of relapsing forms of multiple sclerosis.
In July 2017, the European Medicines Agency (or EMA) announced a review of Zinbryta following a case of fatal fulminant liver failure as well as four cases of serious liver injury. In January 2018, the European Commission announced its decision to restrict the use of the drug to adult patients who have had an inadequate response to at least two DMTs. Subsequently, in March 2018, Biogen and AbbVie announced the voluntary worldwide recall of Zinbryta.
As a result, Biogen recorded $2.4 million in inventory charges and $12.8 million in losses associated with terminating research and development and clinical trials of the drug. In 1Q18, Biogen recognized a net reduction in revenues of $4.9 million in the US, reflecting its share of overall net loss within this collaboration.
Collaboration with Eisai
Biogen has a collaboration agreement with Eisai to jointly develop and commercialize E2609, a BACE inhibitor, BAN2401, a monoclonal antibody targeting amyloid beta aggregates for treating AD. If approved, the two companies will co-promote the drugs in major markets like the US, the EU, and Japan. In smaller markets, Eisai will distribute these products and pay Biogen a royalty.
In the next part of the series, we'll look at Biogen's key agreements with Pfizer and Ionis Pharmaceuticals.