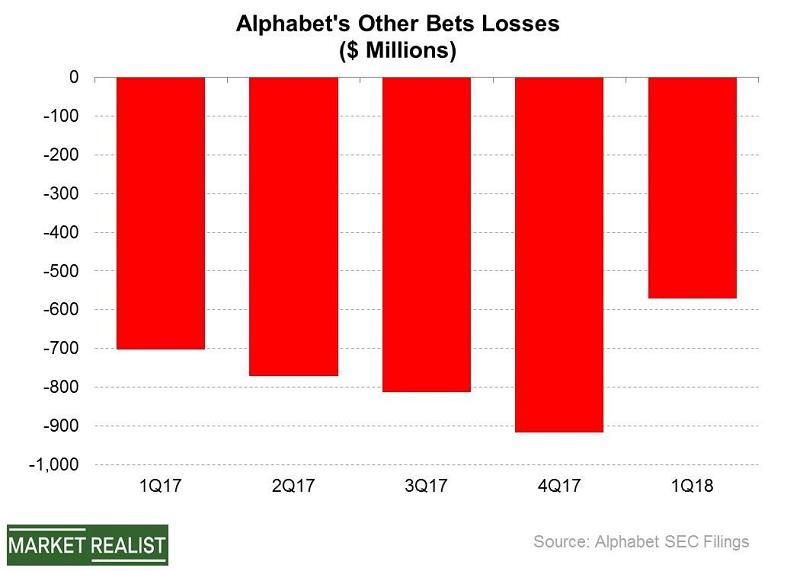 When Will Alphabet's Other Bets Stop Losing Money?
By Neha Gupta

Nov. 20 2020, Updated 4:50 p.m. ET
There's an end in sight to Other Bets losses
Alphabet's (GOOGL) Other Bets segment continues to feed off Google, which is the source of all the profits Alphabet reports. If Alphabet's recent quarterly results have taught us anything, it's that Other Bets is still unable to stand alone. Other Bets, the collection of largely experimental businesses that include Waymo, Fiber, and Verily, continued to post losses in the quarter.
If what Alphabet executives said during the conference call to discuss 1Q18 is anything to go by, losses in the Other Bets segment won't go on forever. According to Alphabet's chief financial officer, Ruth Porat, the company remains focused on bringing its various Other Bets businesses to the commercialization stage.
Article continues below advertisement
Verily-Sanofi joint venture making progress
Discussing Verily, the Other Bets business that's focused on life sciences, Porat said that the business is seeing good progress in its joint venture with Sanofi (SNY). Verily and Sanofi teamed up in a joint venture to develop disease-management solutions for people with diabetes.
Verily was also selected alongside Johnson & Johnson (JNJ), Fitbit (FIT), Samsung (SSNLF), and other companies to participate in a very important FDA pilot program. The FDA is exploring a path toward the speedy approval of digital health products.
Ride-hailing market presents $285 billion revenue opportunity
Waymo, the Alphabet business focused on autonomous driving, is also close to the commercial application of its technology. In addition to launching a ride-hailing service using self-driving vehicles, Waymo is eyeing logistics and personal use markets for its self-driving vehicles. Waymo's venture into ride-hailing could be a big boost to Alphabet's Other Bets segment, as Goldman Sachs (GS) expects the global ride-hailing market to be worth $285 billion in revenue by 2030.
Other Bets generated $150 million in revenue but churned out a $571 million loss in 1Q18. Of note, though, is that the loss narrowed from $703 million a year earlier.