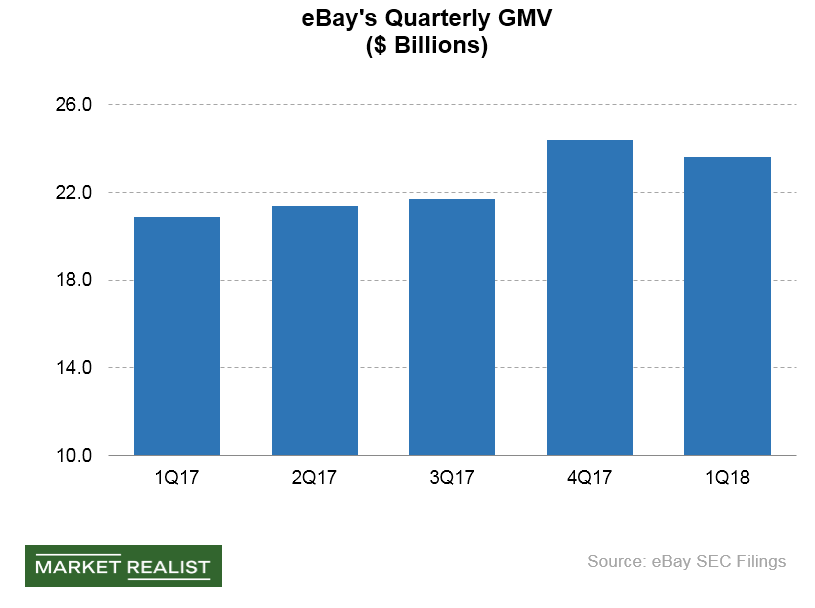 What's New in the Modified eBay–PayPal Agreement?
By Ruchi Gupta

May. 9 2018, Updated 10:32 a.m. ET
eBay and PayPal formalize a modified agreement
eBay (EBAY) and PayPal (PYPL) are breaking up, but it's going to be a slow process. The companies recently signed a new partnership agreement that essentially formalizes their previously announced modified agreement.
In January, eBay announced that it planned to drop PayPal as its primary payment processor. Instead, eBay is tapping Netherlands-based Adyen to be its new payment partner. 
Article continues below advertisement
PayPal contract extended for three more years
In 2015, eBay struck a deal to keep PayPal as its primary payment provider until 2020. The deal allows eBay the option to extend its payment contract with PayPal or terminate it after 2020. 
Under the modified agreement, which was disclosed in January, eBay is expected to extend its payment contract with PayPal for three more years until 2023. However, PayPal is expected to play a diminishing role in processing eBay payments so that by 2021, Adyen would process most of the eBay payments. eBay's GMV (gross merchandise volume) rose 13.0% year-over-year to $23.6 billion in 1Q18.
Ending eBay relationship expected to free PayPal
Although Adyen was a little-known payment company before eBay chose it as PayPal replacement, Adyen has been around for more than a decade and has built a sizable network for its customers. It provides payment services for large companies such as Netflix (NFLX), Facebook (FB), Spotify (SPOT), and Uber.
For PayPal, ending the relationship with eBay is expected to free it to work more closely with eBay's competitors. PayPal has been reportedly eyeing doing business with Amazon (AMZN).