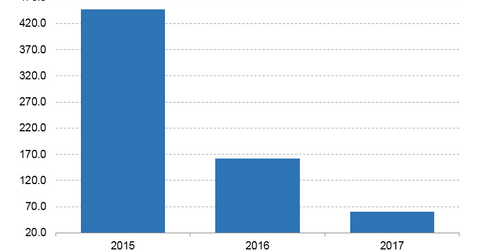 What Did Groupon Do with Its $135 Million Repurchase Budget?
By Neha Gupta

Updated
Repurchasing shares when undervalued
Groupon (GRPN) closed 2017 with $135.2 million shares remaining under its current share repurchase program. What did the company do with the cash in 1Q18? Groupon is set to report its 1Q18 results on May 9, and we hope to hear updates on its share repurchase program at that time.
However, the company has provided no clear details about its share repurchase plan for 2018. Besides disclosing the balance in its existing program, Groupon has only said that the timing and amount of any repurchases it might make in 2018 will be determined by several factors, including share price, market conditions, and the terms set out in its credit agreements.
Companies tend to repurchase their shares when they believe the shares are undervalued. Groupon shares fell 14.9% in 1Q18, while Amazon (AMZN) and eBay (EBAY) shares rose 23.8% and 6.6%, respectively, in the quarter.
Article continues below advertisement
Groupon said repurchase program could be terminated
Besides stating that any share repurchases would be subject to several conditions, Groupon also said its repurchase program could be terminated at any time. Therefore, there may be no more repurchases beyond what Groupon completed in 2017 and the years before.
Groupon repurchased 16.9 million shares for a total of $60 million in 2017. The company repurchased $162.4 million worth of its shares in 2016. In 2015, Groupon repurchased $446.6 million worth of its shares.
eBay invested over $990 million in repurchases
Yelp (YELP) repurchased $12.6 million worth of its shares in 2017, while eBay repurchased $992 million worth of its shares in 4Q17. IBM (IBM) repurchased $0.7 billion worth of its shares in 4Q17, leaving $3.8 billion remaining under its current repurchase program. Google's parent, Alphabet (GOOGL), intends to repurchase $8.6 billion worth of its shares starting in 2018.