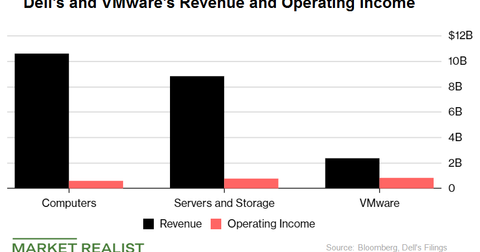 What Could Put the Dell-VMware Deal in Jeopardy?
By Anne Shields

Updated
Dell's potential routes to merge with VMware
Earlier in the series, we discussed Carl Icahn's positive viewpoint on the potential merger between Dell and VMware (VMW). Dell, a privately held company, is exploring various probable routes including conversion of Dell's VMware tracking stock to Dell common shares, an IPO (initial public offering), a reverse merger, or no action at all. Dell is likely to prefer a reverse merger with VMware, as it would enable it to reemerge as a public company.

Dell's sizeable debt might put the merger in jeopardy
According to Carl Icahn, "Dell has got $42 billion in debt, that's a lot for a country, a third-world country, let alone Michael Dell." He added, "I think they're going to have to do some type of merger with VMware. And this is a question of what you pay for it, and I hope he pays the right price for it."
Considering Icahn's involvement in spin-offs, it was a wide-held belief that the activist would oppose any deal by Dell to merge Dell and VMware, but he is amenable to a transaction at the appropriate price. In the past, VMware holders have shown opposition to a deal between Dell and VMware.
Icahn is of the opinion that Dell, a private company, and its sizeable debt of $42 billion might deter tracker investors from agreeing to a deal between Dell and VMware. The tracker, which was created as a part of the merger between Dell and EMC, in 2016, has a market value of $16 billion currently.
According to Bloomberg and as the above presentation shows, though VMware's revenue is small in comparison to Dell's hardware revenues, VMware has generated more operating income than Dell in the fiscal period ending February 2, 2018.