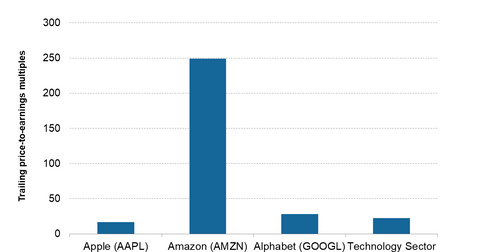 Warren Buffett: 'I Made the Wrong Decisions on Google and Amazon'
By Sarah Sands

Updated
Warren Buffett on Amazon and Google
Iconic investor Warren Buffett discussed his view on Google (GOOGL) and Amazon (AMZN) in a recent interview.
Alphabet and Amazon are two major technology giants, and Buffett believes that he has made some mistakes by not investing in these two stocks. Buffett said, "I made the wrong decisions on Google and Amazon. We've looked at it. I made the mistake in not being able to come to a conclusion where I really felt that at the present prices that the prospects were far better than the prices indicated."
Article continues below advertisement
Alphabet has returned 139% in the past five years. The trailing price-to-earnings multiples of Alphabet stood at 27.3x, while the technology sector (XLK) stood at 30.9x. Alphabet's higher multiple was mainly supported by its earnings growth. It reported its earnings results on April 23. Its EPS stood at $13.33, which beat the analyst estimate of $9.28.
Similarly, Amazon returned 470% in the past five years. Amazon has been playing a major role in the online retail segment. The stronger earnings growth and its adaptation to various changes are mainly driving this stock.
He further added, "I've watched Amazon from the start. I think what Jeff Bezos has done is something close to a miracle…The problem is when I think something will be a miracle, I tend not to bet on it. It would have been far better obviously if I had some insights into certain businesses."
In the next part of this series, we'll analyze Warren Buffett's view on the US-China trade war talk.