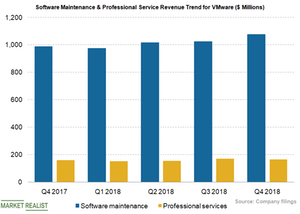 VMware's Software Maintenance Growth Drives Service Segment
By Aaron Hemsworth

Updated
Factors contributing to Service segment's growth
VMware's (VMW) Service segment, which represents more than 50.0% of its total business, maintained stable growth. This growth was driven by the company's solid improvement in its Software Maintenance service.
VMware's Service segment is composed of its Software Maintenance and Professional Services business. The Software Maintenance unit generates the bulk of the revenues for the overall Service segment, buoyed by the solid renewal of EA (enterprise agreement) maintenance contracts. Increased sales of software licenses helped the company boost its Software Maintenance business through bundled deals.
VMware also benefited from the higher sales of its NSX and vSAN products, which contributed to its Professional Services revenue growth. The company forms partnerships with cloud service providers such as Amazon (AMZN) and IBM (IBM), which may boost VMW's Software Maintenance business.
Article continues below advertisement
Detailed analysis
From the graph above, we can see the revenues of VMware's (VMW) Software Maintenance and Professional Services businesses in the last five quarters. During this period, the revenues from its Software Maintenance unit grew at a CAGR (compound annual growth rate) of 2.2%, and the revenues from the Professional Services segment increased at a CAGR of 1.1%.
In fiscal Q4 2018, the revenues from VMW's Software Maintenance segment came in at ~$1.1 billion, up 9.0% YoY (year-over-year). At the end of fiscal 2018, its revenues stood at $3.7 billion versus $4.1 billion in fiscal 2017.
In fiscal Q4 2018, VMW's Professional Services revenues stood at $165.0 million for an increase of 4.4% YoY. The business unit exited fiscal 2018 with revenues of nearly $559.0 million against $639.0 million in fiscal 2017.