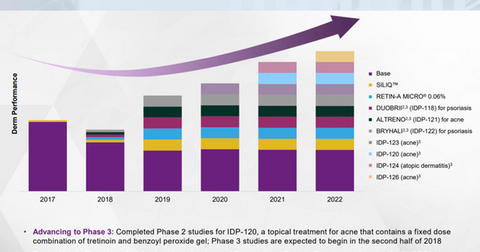 Valeant Pharmaceuticals' Ortho Dermatology Segment
By Daniel Collins

Updated
Duobrii could receive FDA approval in June
In April, Valeant Pharmaceuticals' (VRX) Ortho Dermatologics division published positive results in the Journal of the American Academy of Dermatology for the first time from its Phase 3 trial. This trial evaluated the safety and efficacy of Duobrii lotion for the treatment of individuals with plaque psoriasis.
In Phase 3 clinical trials (studies 1 and 2), Duobrii demonstrated statistically significant superiority by week 4 (study 1) and week 2 (study 2) compared to vehicle lotion. In the clinical trials, week 8, 35.8% and 45.3% of patients in study 1 and study 2, respectively, achieved the primary efficacy outcomes compared to 7.0% and 12.0% of patients on its vehicle lotion. The primary efficacy was determined by at least a two-grade improvement from baseline in IGA (Investigator Global Assessment) score and "clear" or "almost clear" skin.
Article continues below advertisement
Valeant Pharmaceuticals has submitted an NDA (New Drug Application) for Duobrii to the FDA. The FDA has provided a PDUFA (Prescription Drug User Fee Act) action date of June 18. The approval and simultaneous launch of Duobrii are expected to boost the revenue growth of Valeant Pharmaceuticals in 2018 and beyond.
Siliq overview
Valeant Pharmaceuticals is focused on the market expansion of Siliq. Valeant Pharmaceuticals said that physicians are impressed with the quick response and higher number of patients achieving complete clearance.
In February, Valeant Pharmaceuticals announced the results from the Phase 3 AMAGINE-1 trial. The Phase 3 AMAGINE-1 trial evaluated the safety and efficacy of Siliq in the management of mental health comorbidities related to psoriasis, such as anxiety and depression.
In the Phase 3 trial, after 12 weeks of Siliq therapy, patients with plaque psoriasis demonstrated a decrease in anxiety and depression in HADS (Hospital Anxiety and Depression Scale) while HADS scores remained unaffected for patients on placebo therapy.
In the marketplace, Siliq's peers include Eli Lilly's (LLY) Taltz, AbbVie's (ABBV) Humira, and Johnson & Johnson's (JNJ) Tremfya.
Valeant Pharmaceuticals' new chemical entities are in clinical development. Valeant Pharmaceuticals recently completed the Phase 2 trial with IDP-120, an investigational molecule for the treatment of acne. Valeant is conducting various clinical trials for bringing new products for the treatment of acne, psoriasis, and atopic dermatitis.