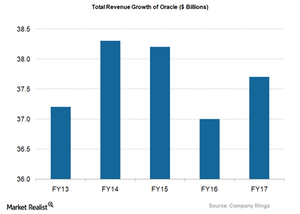 Oracle Utilities Forms a Strategic Partnership with AEP
By Aaron Hemsworth

May. 14 2018, Updated 7:30 a.m. ET
Partnership details
Leading database management solution provider Oracle (ORCL) drives its business through strategic partnerships with a variety of entities. In April, Oracle Utilities teamed up with American Electric Power (AEP) to boost its business and drive operational efficiency for its customers.
This strategic alliance may benefit American Electric Power in several ways. AEP can utilize Oracle Utilities' applications and Oracle enterprise applications to support its business and technology transition.
Article continues below advertisement
Oracle is supplying the power company with cutting-edge technologies that can help AEP achieve its performance goals through the consistent use of applications and business processes across the enterprise. The integrated application also offers AEP improved flexibility and scalability to trim costs.
Top-line growth
From the graph above, we can see Oracle's total revenue growth in the last five years. During this period, it grew at a CAGR (compound annual growth rate) of 0.3%. The company exited fiscal 2017 with nearly $37.7 billion in revenues, up 2.0% YoY (year-over-year). In fiscal 3Q18, the company's total revenues reached ~$9.8 billion, which climbed 6.0% YoY.
The Opower Energy Efficiency programs of the Oracle Utilities unit have produced about $2.0 billion in utility bill savings for customers over the past decade. This level of savings is a solid achievement that may encourage the business unit to enter into more such partnerships.