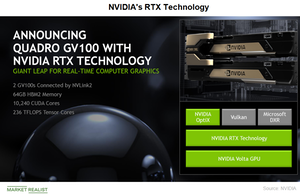 New Developments in NVIDIA's ProV Applications
By Puja Tayal

Updated
NVIDIA's RTX technology
In the previous part of the series, we saw that NVIDIA's (NVDA) ProV (professional visualization) business had reported an uptick in growth driven by increasing demand for real-time rendering and emerging applications such as AI and virtual reality. This uptick encouraged it to make further developments in the area.
In collaboration with Microsoft (MSFT), NVIDIA has unveiled its real-time ray tracing technology, RTX, which it's been working on for over ten years. RTX uses four Volta-based Quadro GV100s with tensor cores to render 30 frames per second. RTX is 100 times faster than CPUs (central processing unit) in real-time, noise-free rendering thanks to NVIDIA's OptiX AI denoiser.
Rendering is a compute-intensive process, and doing it in real time requires a dedicated data center. RTX reduces an entire data center into one node, reducing the cost to 20% and the space and power requirement to 14%.
Article continues below advertisement
NVIDIA expands ProV applications
NVIDIA expects RTX technology to help moviemakers make movies with high-quality rendering at a reduced cost. It also looks to bring cinematic rendering to game developers. RTX can also be used for offline rendering to create better images in applications such as vehicle or architectural design, where the designer can see the product in the virtual world.
In the long term, NVIDIA expects to bring RTX to the GeForce gaming platform, which would take the gaming experience to the next level.
Synopsis of NVIDIA's platforms
Overall, NVIDIA is witnessing a strong adoption of its existing technologies. The company is also exploring other verticals in which its technology can make a difference and is focusing its product developments in those areas. While the gaming and data center spaces remain robust, growth is picking up in the ProV space, and growth in the automotive space still has a long road ahead.
Check out all the data we have added to our quote pages. Now you can get a valuation snapshot, earnings and revenue estimates, and historical data as well as dividend info. Take a look!