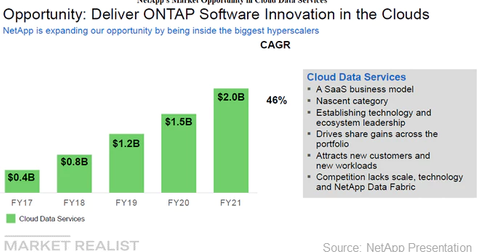 NetApp Partners with Google in Cloud Data Services
By Adam Rogers

Updated
Service integrated with Google Cloud Platform
Earlier this month, NetApp (NTAP) announced that NetApp Cloud Volumes, a fully managed, cloud-native file storage service, has been integrated with Google Cloud Platform (GOOG) (GOOGL). This partnership aims to combine NetApp's data services with Google Cloud's leadership in the analytics and machine learning space.
According to a press release, NetApp has introduced a cloud-connected flash system to power AI and compute-intensive applications that ensures a "cloud-architected infrastructure for data retention compliance." NetApp's Data Fabric solutions will not only help customers automate and monetize data assets but also integrate public cloud data services and cloud-connected flash solutions.
"Companies are increasingly looking at using data and cloud technology to accelerate their businesses," said NetApp CEO George Kurian. "As the leader in hybrid cloud data services, NetApp is uniquely positioned to help them create new market opportunities by rapidly deploying new technologies."
Article continues below advertisement
Cloud data services a high-growth vertical for NetApp
Between fiscal 2017 and fiscal 2021, NetApp expects in cloud data services revenue to grow at a compound annual rate of 46%, from $400 million to $2 billion. Like peers Cisco (CSCO) and Hewlett Packard Enterprise (HPE), NetApp is looking to build a subscription-based model to ensure a constant flow of revenue. This vertical provides data monitoring and optimization, data management (security, backup, and protection), and data storage solutions.