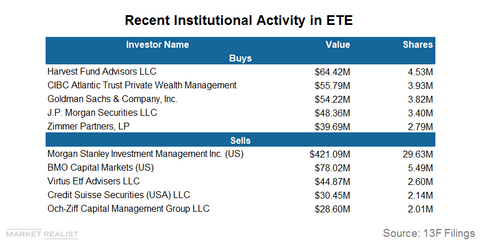 Morgan Stanley Unloaded a Major Position in ETE during Q1 2018
By Kurt Gallon

Updated
Recent institutional activity in ETE
The number of institutional holders in Energy Transfer Equity (ETE) had fallen to 433 at the end of the first quarter compared to 438 in the previous quarter.
Moreover, the percentage of shares held by institutional investors fell to 48.2% from 48.9%, indicating a bearish sentiment in the stock. Bearishness toward ETE can mainly be attributed to flat distribution at both the LP (limited partner) and the GP (general partner) levels.
Morgan Stanley unloaded a major position in ETE during the quarter. It sold 29.6 million shares of ETE valued at $421.1 million. Morgan Stanley was followed by BMO Capital Markets, which sold 5.5 million shares of the GP.
On the other hand, Harvest Fund Advisors and CIBC Atlantic Trust Private Wealth Management were the biggest buyers in ETE. They bought 4.5 million and 3.9 million shares, respectively. Among the top institutional holders, 13.4 million positions were added.
Article continues below advertisement
Top five holders
Harvest Fund Advisors, Goldman Sachs, Tortoise Capital Advisors, Citi Investment Research, and OFI SteelPath are the top five institutional holders in ETE. Harvest Fund Advisors continued to be the largest institutional holder in ETE after adding 4.5 million shares during the first quarter. It holds 4.6% in the partnership.
Analysts' recommendations
The Bank of America recently upgraded ETE to a "buy" from a "neutral," which is equivalent to a "hold." Now, 77.8% of analysts surveyed by Reuters have rated ETE as a "buy," while the remaining 22.2% have rated it as a "hold."
ETE's peers Plains GP Holdings (PAGP) and Williams Companies (WMB) have "buy" ratings from 59.1% and 76.2% of analysts, respectively. ETE is currently trading below the low range ($17) of analysts' target price. Its average target price of $19.9 implies a ~24% upside potential from its current price level.