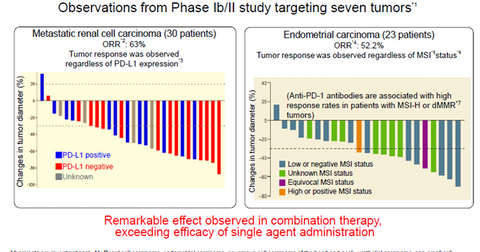 Merck and Eisai to Study Lenvima and Keytruda Combination Regimens
By Margaret Patrick

Updated
Lenvima and Keytruda combination regimens
Merck (MRK) and Eisai have planned to initiate 11 registrational trials to study the potential of Keytruda and Lenvima combination regimens in six tumor types. Additionally, the companies also plan to explore the potential of these combination regimens in multiple exploratory basket trials for various solid tumors.
Merck and Eisai also plan to work together to expand overall access for Lenvima by jointly working on commercialization and clinical activities. While Eisai will be responsible for the manufacturing of Lenvima and thereafter booking the drugs' sales, the company will be sharing both development and marketing expenses as well as profits with Merck on an equal basis.
Article continues below advertisement
Combination therapy rationale
Merck and Eisai are currently evaluating the Lenvima-Keytruda combination regimen in Phase 1b/2 studies in seven cancer types. On September 10, 2017, Eisai announced positive results from the Phase 1b/2 study evaluating the Lenvima-Keytruda combination regimen in advanced renal cell carcinoma indication. With the overall response rate (or ORR) of 63% higher than the simple sum of response rates witnessed for each of these drugs as a monotherapy option, Merck and Eisai believe that the Lenvima-Keytruda combination can benefit patients due to its synergistic effect. Additionally, the response rate was also high even in patients with negative PD-L1 expression levels.
On January 9, 2018, the US Food and Drug Administration granted its "breakthrough therapy" designation to the Lenvima-Keytruda combination regimen in the advanced or metastatic renal cell carcinoma indication. This was the second breakthrough therapy designation that Lenvima has received and the 12th that Keytruda has received.
Lenvima-Keytruda combination regimen also demonstrated ORR of 52.2% in endometrial carcinoma indication, irrespective of the microsatellite instability (or MSI) status. The demonstrated synergistic effect of the Lenvima-Keytruda combination regimen is expected to enable Merck to compete aggressively with other oncology players such as Pfizer (PFE), Bristol-Myers Squibb (BMY), and Roche Holdings (RHHBY).