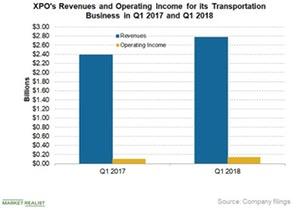 Key Trends Likely to Drive XPO's Transportation Business in 2018
By Samuel Prince

Updated
XPO's transportation business
In this article, we'll look at the factors that are likely to drive growth for XPO Logistics' (XPO) transportation business.
Transportation is a key component of the company's business and contributed 66% to its total revenue of $4.2 billion in the first quarter.
Article continues below advertisement
Macro trends in the transportation business
Now let's look at the key macro trends that are likely to impact XPO's transportation business this year. XPO expects the truckload market in North America to continue to be favorable to its business, with volumes picking up this year.
In western Europe, where XPO has a significant footprint, it has observed its transportation business picking up due to the region's steady economic growth.
Innovations in the transportation business
Another factor that's expected to bolster XPO's transportation business is the company's significant investment in innovating its services and its sales strategy. In April this year, the company launched XPO Direct, a shared-space distribution model targeted specifically at the company's e-commerce and omnichannel retail customers. Currently, XPO Direct has 75 facilities in its network, and the company expects to scale this up to 100 facilities by the third quarter of this year.
Article continues below advertisement
XPO's XPO Connect is a cloud-based freight platform that gives its customers full visibility across all its modes of transport in real time. XPO has also enabled the voice-based tracking of freight for its customers through integration with voice-based assistants such as Amazon's (AMZN) Alexa and Google (GOOG) Home.
Another service innovation for XPO's transportation business is the Drive XPO app and C3-XPO. While Drive XPO is a mobile-based app for the company's contract carriers, C3-XPO is a security robot that utilizes cutting-edge security technology to monitor transport facilities 24 hours a day, 365 days a year.
The company has also ramped up its sales force and is focusing on the effective sales targeting of freight that's more profitable for the company. As a result, it expects accelerated growth in operating income in the second half of 2018. As the chart above indicates, in the first quarter, XPO's transportation business had revenue of $2.7 billion, a rise of 16% year-over-year, and an operating income of $0.14 billion.