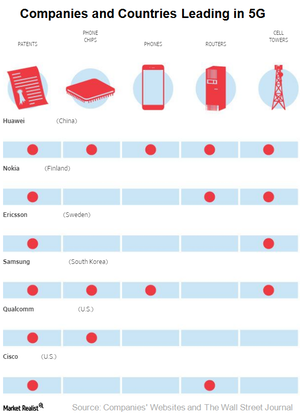 Is Huawei a Competitive Threat to Qualcomm?
By Puja Tayal

Nov. 20 2020, Updated 4:45 p.m. ET
Huawei develops technology in-house
In the previous part of this series, we saw that Qualcomm (QCOM) is stuck in the US-China (FXI) trade tensions. While the United States is rejecting US-China technology deals, China is encouraging its domestic technology companies to develop technologies to reduce the reliance on US products.
Huawei is a good example of China's support. In its early days, Huawei manufactured smartphones using Qualcomm's Snapdragon processors. Like Samsung (SSNLF) and Apple, Huawei started developing its own ARM (Advanced RISC Machine) processors for its flagship smartphones under the HiSilicon brand and continued to power its mid- and low-end smartphones using Qualcomm processors.
However, Huawei went beyond Samsung and Apple and developed its own modem technology. It's now expanding its chip portfolio to mainstream and budget smartphones. That could see Qualcomm lose Huawei as a customer.
Article continues below advertisement
Huawei poses threat to Qualcomm
Qualcomm has expertise in developing smartphone processors. Developing high-performance, high-efficiency processors requires a lot of capital and engineering talent because very few phone companies are able to build the technology in-house.
Cash-rich companies, including Apple, Samsung, and Huawei, have the talent and capital to build chips in-house, but Apple and Samsung have no intentions to sell its chips to third parties. If Huawei plans to sell its chips to phone makers, especially Chinese phone makers, to make them technologically competitive, it would become a direct competitor to Qualcomm.
Huawei eyes 5G opportunity
Huawei is showing early signs of becoming a Qualcomm competitor by submitting patent applications for its 5G (fifth-generation) technology. If Huawei's patent is approved as a standard, it would have the right to license its technology to other handset makers for a fee.
Like Qualcomm and Apple, Huawei manufactures smartphones and smartphone chipsets, but it also supplies radio networks, fiber backhauls for Internet service providers, and the software and AI (artificial intelligence) stacks for edge computing. That gives it an advantage in 5G. There are rumors that Huawei is planning to build its own mobile operating system. The company has also stated its plan to tap the IoT (Internet of Things) and autonomous-driving markets.
Qualcomm and Huawei amid US-China tensions
The Chinese government is encouraging 5G deployment ahead of US deployment. Qualcomm and Intel (INTC) are thus targeting their 5G efforts at China. That has raised fears for the US government, and it rejected Qualcomm's takeover by Broadcom (AVGO) over concerns that the deal would enable Huawei to pass Qualcomm in 5G technology.
Qualcomm was facing all these challenges even before hints of a US-China trade war began. Next, we'll see what the possible implications would be for Qualcomm if China retaliates.
Be sure to check out all the data we've added to our quote pages. Now you can get a valuation snapshot, earnings and revenue estimates, and historical data, as well as dividend information. Take a look!