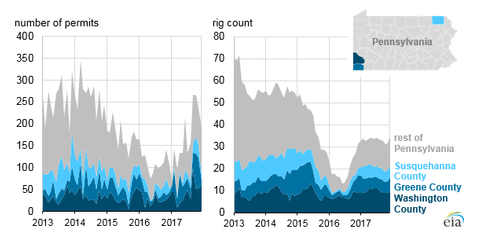 Increase in Permitting and Drilling Activity in Appalachian Basin
By Keisha Bandz

Updated
Permitting and drilling activity in the Appalachian Basin
With the expansion of regional pipeline capacity, Pennsylvania has seen an increase in permitting and drilling activity. According to the Pennsylvania Department of Environmental Protection, the state issued 1,352 natural gas drilling permits in 2016 and 2,038 in 2017.
The drilling rig count in Pennsylvania has also increased, averaging 20 rigs in 2016 and 33 in 2017, based on data from Baker Hughes.
Article continues below advertisement
Recent rig trends in the Appalachian Basin
In the latest US rig count released by Baker Hughes (BHGE), the number of active US rigs drilling for natural gas increased by 13 YoY (year-over-year) to 198 in the week ended May 25. There were 185 active natural gas rigs a year ago. According to the latest numbers, 56 rigs are now in the Marcellus shale, which had 45 active rigs at about the same time last year. In the Utica shale, there are currently 24 active natural gas rigs compared to 25 active rigs the same time last year.
The Marcellus and Utica shales together make up the Appalachian Basin. The Marcellus and Utica shales together have 80 rigs, which is 8% of the total oil and natural gas rigs, or 1,059 rigs operating in the United States as of May 25.
Productivity in the Appalachian Basin
According to the EIA (U.S. Energy Information Administration), drilling wells in the Appalachian region has become increasingly productive due to longer laterals, faster drilling, better targeting of wells, and technological advancements.
According to the EIA, Some operators have recorded lateral lengths as long as 15,000 feet in the Marcellus and 19,000 feet in the Utica. EQT (EQT) expects its Marcellus wells to average 13,600 feet compared to an average of 8,000 feet in 2017. That comes on the back of its Rice Energy acquisition that it completed in November.
Increasing natural gas production in the Appalachian region has also created the need for new takeaway capacity. We'll take a look at that in the next part of this series.