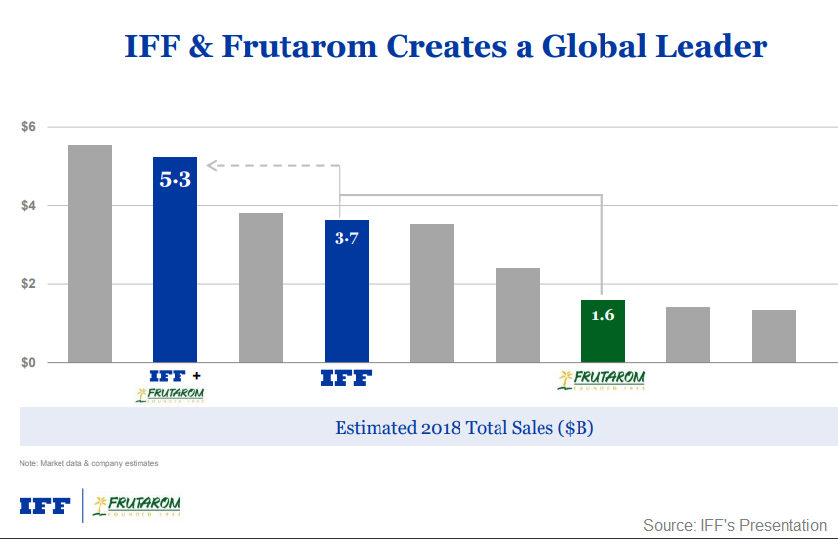 IFF Announces Acquisition of Frutarom
IFF announces the acquisition of Frutarom
On May 7, International Flavors and Fragrances (IFF) announced that it had entered a definitive agreement to acquire Frutarom, a leader in the natural taste, scent, and nutrition markets. IFF will pay $7.1 billion in the form of cash and stock to acquire the company. As a part of the deal, IFF will also assume Frutarom's net debt. Frutarom shareholders will receive $71.19 in cash and 0.249 of IFF's common stock. Thus, IFF will pay $106.25 per share to Frutarom shareholders, which is an 11% premium based on Frutarom's closing price on May 6. The transaction represents 20.3x of Frutarom's expected EBIDTA for 2018.
The acquisition fast tracks IFF's 2020 vision. IFF sees the acquisition as an opportunity for cross-selling, which would be a long-term growth story. IFF expects that this deal could bring in cost-saving synergy of $145 million in three years.
Article continues below advertisement
Management comments
IFF chair and CEO, Andreas Fibig, said, "This transaction is a big win and a fantastic outcome for shareholders, customers and employees of both companies. Frutarom has an extremely attractive product portfolio, including broad expertise in naturals and diverse adjacencies with capabilities beyond our core taste and scent businesses. It also has significant exposure to complementary and fast-growing small- and mid-sized customers. By combining our deep R&D expertise with Frutarom's, we are offering our customers a broader range of solutions and accelerating our growth strategy. We believe this combination will lead to faster and more profitable growth, enhanced free cash flow and generate greater returns for our shareholders."
Financing the acquisition
IFF is expected to finance this acquisition through a combination of cash in hand, $2.2 billion in new equity, which will be the stock portion given to the Frutarom shareholders, and through raising new debt. At the end of 1Q18, IFF had cash and cash equivalents of ~$305.3 million. As a result of this transaction, IFF's debt to adjusted EBITDA is expected to be ~3.7x. However, IFF intends to bring it down to 3.0x in 18 to 24 months. IFF will suspend its share repurchases until that time.
Investors can indirectly hold IFF by investing in the iShares Edge MSCI Multifactor Materials ETF (MATF), which invests 1.4% of its portfolio in IFF. The fund also provides exposure to DowDuPont (DWDP), Sherwin-Williams (SHW), and Celanese (CE), which have weights of 19.5%, 6.5%, and 4.2% as of May 8.