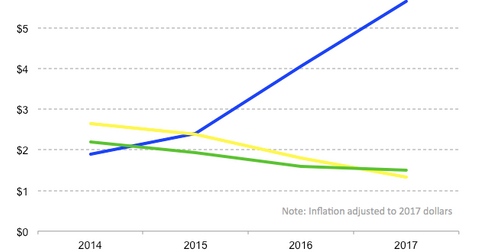 How Spotify and Apple Have Revived the Global Music Industry
By Sanmit Amin

Updated
Global and US recorded music industries have seen a revival
The US music industry has seen several years of poor revenue growth, as physical sales and online downloads have dwindled. However, according to a recent report by the Recording Industry Association of America, music streaming services have revived the industry, which saw its revenue grow 16.5% in 2017 to $8.7 billion.
A new report by MIDiA reinforces that music streaming services have supported growth in the industry. According to the report, last year was the third consecutive year of revenue growth for the global recorded music industry.
Article continues below advertisement
Spotify and Apple Music subscribers have been growing at a fast clip
The report said that the industry's revenue grew 8.8% in 2017 to $17.4 billion, with the US market being the largest, representing 40% of the industry's revenue in 2017. Global revenue was slightly lower than the global revenue of $17.7 billion seen in 2008.
The report pointed out that revenue from streaming services grew 39% in 2017, reaching $7.4 billion. Spotify (SPOT), the market leader in the music streaming business, said it had 71 million paying subscribers as of December 2017. Its closest competitor, Apple Music, had 40 million subscribers as of April 2018. The success of its music streaming service led to Spotify going public earlier this month.