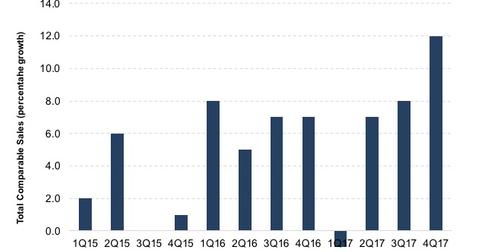 How Digital Transformation Is Driving Lululemon's Top Line
By Sonya Bells

Updated
Discussing Lululemon's growth expectations
Lululemon Athletica (LULU), which is slated to post its first-quarter results on May 31, is projected to post an 18.5% YoY (year-over-year) increase in sales. The company has beaten analysts' expectations in the last six quarters.
Article continues below advertisement
How Lululemon's performance improved in every quarter last year
Lululemon had a slow start to fiscal 2017. However, digital transformation drove the company's sales in the latter part of the year.
Its comps stood at -1% during the first quarter as it witnessed softness in online sales. However, the company bounced back in the second quarter as sales comps grew 7%. The third quarter was even more impressive, with comps rising 8% and the company recording its best digital conversion figures.
In the fourth quarter, sales comps soared 12%, beating analysts' expectation of an 8.6% increase. Its website relaunch during the third quarter boosted digital sales growth by 42% (on a constant-dollar basis). Asia, in particular, recorded 52% comparable sales growth, driven by a triple-digit rise in online sales. Therefore, between the first and the fourth quarters, Lululemon's online channel shifted to being its key growth engine from being its biggest drag on sales.
Article continues below advertisement
LULU is far ahead of competitors in terms of growth
What to expect in the first quarter
Lululemon expects its strong comps to continue in the first quarter of this year. Online conversion and new product launches are expected to bring low double-digit comps (on a constant-dollar basis) during the quarter. Total sales of $612 million–$617 million are expected, reflecting an 18% increase at the midpoint. The company also plans to open eight new stores during the quarter.