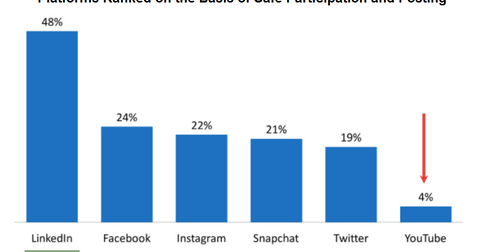 How Cisco's Accompany Acquisition Could Hurt Microsoft's LinkedIn
By Anne Shields

Updated
Microsoft's approach towards collaboration space
Earlier in the series, we discussed how Microsoft (MSFT) could be impacted by Cisco's (CSCO) acquisition of Accompany. Though Microsoft and Oracle (ORCL) are dominant players in the enterprise software space, they are yet to transition fully to a cloud model. They're integrating their collaboration apps into their productivity suites to increase their appeal and cater to organizations that are content with the siloed approach. Enterprises that follow the siloed approach prefer not to share information with their own groups or departments.

Article continues below advertisement
Cisco's Accompany could kill LinkedIn
Now let's look particularly at how Microsoft's LinkedIn could be affected. Microsoft's LinkedIn is dependent on its members to not only "connect" with employees and friends but also to keep their profiles up to date. On the other hand, Accompany leverages AI and ML (machine learning) to search the web and gather information from social media websites like Twitter (TWTR) to create and update profiles of C-executives.
Both Cisco and Microsoft have significant cash reserves, which they could put towards adding new features, enhancing their social components, and broadening their footprints, and thus the companies could prove to be a serious threat to each other. The companies are making substantial investments in AI (artificial intelligence) and ML (machine learning) to gain an edge over each other.