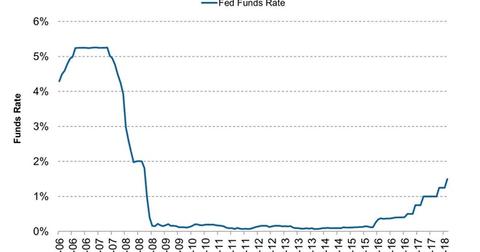 Goldman Sachs: Rising Rates Could Change Valuation of S&P 500 Index
By Sarah Sands

Updated
Goldman Sachs on the valuation of the S&P 500 Index
Prominent investment firm Goldman Sachs (GS) also said that the rising rates could change the valuation of the equity market (SPY) (QQQ) (DIA).
Rising inflation is signaling that interest rates could rise too. The faster rate hike expectation is pushing the bond yield higher. However, Goldman Sachs believes the rate hike won't hamper the equity market.
Kostin said, "The actual impact of interest rate changes on equity prices depends on the reason interest rates are rising. If interest rates rise in anticipation of faster economic activity, this could lift growth expectations and also lower the equity risk premium."
Article continues below advertisement
Faster rate hikes are expected to broadly damage the equity market, as US businesses are going to pay more for their borrowed money, which is going to affect their profit margin. For almost a decade, the economy and businesses enjoyed an ultra-low interest environment. Now, the sudden rise in interest rate is expected to hamper the equity market.
However, the improvement in various fundamental factors is suggesting a gradual rate hike in the economy. If the fundamental factors of businesses such as earnings, revenues, and dividend continue to increase despite the gradual rate hike in the economy, then it could push the equity market higher. Kostin also added, "Assuming no valuation change, strong earnings and dividend growth will lift the S&P 500 index to our year-end 2018 target of 2850."
You may be interested to read, Goldman Sachs: Interest Rate Hikes Could Move at a Faster Pace.