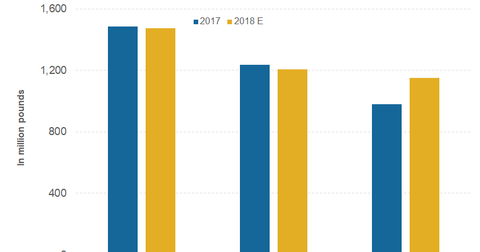 Freeport-McMoRan: Analyzing the Grasberg Concerns
By Mohit Oberoi, CFA

May. 4 2018, Updated 10:15 a.m. ET
Grasberg concerns
Article continues below advertisement
New concerns
During the 1Q18 earnings call, Freeport-McMoRan pointed to Indonesia's new environmental regulations, which have complicated the company's struggle with the Indonesian government (EIDO). Upcoming presidential elections in Indonesia could complicate things even more for Freeport-McMoRan. While lower-than-expected earnings spooked investors after Freeport-McMoRan's 1Q18 earnings call, the Indonesian issues were the real trigger for the massive sell-off. Are the Indonesian issues being overblown by the markets?
Key operations
The Grasberg mine accounted for 32% of Freeport-McMoRan's 1Q18 copper shipments. The operations have a disproportionate share in Freeport-McMoRan's consolidated profitability. The company expects the Grasberg mine's unit cash costs after by-product credit to average -$0.55 per pound in 2018. The company's unit cash costs after by-product credit are expected to average $1.71 per pound in North America and $1.64 per pound in South America.
While the Grasberg mine's 2018 unit cash costs could be a deviation due to higher gold production, the mine's long-term economics also look attractive. Freeport-McMoRan expects Grasberg's unit cash costs after by-product credit to be ~$0.50 per pound in 2022—eye-popping cost dynamics for any copper miner.
Freeport-McMoRan is spending a significant amount of money every year to develop Grasberg's underground operations. For quite some time, Freeport-McMoRan's future in Indonesia has been hanging in limbo. While the Grasberg issues are a risk for Freeport-McMoRan investors, markets seemed to have discounted some of the fears in the recent sell-off.