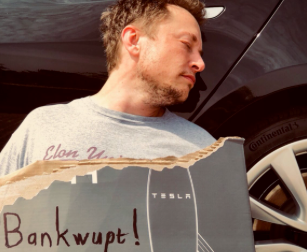 Elon Being Elon: 4 Quotes from Tesla's Conference Call
By Joey Solitro

Updated
Memorable and shocking
If you haven't heard by now, the Tesla Inc. (TSLA) conference call yesterday was quite interesting, to say the least. Here are four memorable—and shocking—quotes from the call.
Article continues below advertisement
Quote #1
When asked about capital requirements by Berstein analyst Antonio Sacconaghi, Elon Musk responded, "Excuse me. Next. Boring bonehead questions are not cool. Next?"
Quote #2
The question that followed Sacconaghi's came from RBC analyst Joseph Spok, and he asked what percentage of people who reserved a Model 3 and were given the opportunity to configure their vehicles actually took the steps to do so. Musk responded, "We're going to go to YouTube. Sorry. These questions are so dry. They're killing me."
Quotes #3 and #4
After a series of questions by YouTuber Galileo Russell of HyperChange, Robert W. Baird analyst Benjamin Joseph Kallo asked about the newsflow that makes Tesla's stock volatile and hard to own for some people. He then asked for more updates on Model 3 production to help reduce volatility. Musk responded with this gem: "You should not be focused on short-term things. You should be focused on long-term things. We have no interest in satisfying the desires of day traders. I couldn't care less. Please sell our stock and don't buy it."
After a short back-and-forth with the analyst, Musk added, "I mean, I think that if people are concerned about volatility, they should definitely not buy our stock. I'm not here to convince you to buy our stock. Do not buy it if volatility is scary. There you go."
Article continues below advertisement
The stock's reaction
Tesla's stock was up a little over 1% going into the conference call, and it was down over 4% as the Q&A session heated up. As of 9:10 EST this morning, it's down over 7%.
The bottom line
Elon Musk is one of the greatest minds of our generation, and while his behaviors on the conference call yesterday were less than ideal, I would never question his ability to lead Tesla—and I sure as heck would never bet against him.