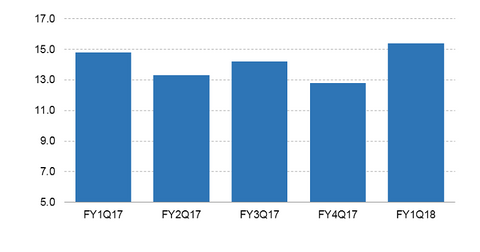 Disney's Challenge in the Sky Takeover
By Ruchi Gupta

Updated
Fox would retain 61.0% ownership of Sky
Walt Disney (DIS) has faced a challenge since it agreed last summer to buy most of 21st Century Fox's (FOX) (FOXA) assets. If Disney succeeds in closing the deal with Fox but Fox fails to close its separate bid to acquire European pay-TV group Sky, then Disney would be compelled to bid for Sky.
Fox owns 31.0% of Sky, and it's looking to buy the remaining 61.0% stake in Sky that it doesn't already own. The asset trade deal that Disney struck with Fox includes Disney taking Fox's 31.0% stake in Sky. Therefore, Fox is expected to retain 61.0% ownership of Sky if both its bid for Sky and its deal with Disney go through.
Fox's success would free Disney from a mandatory offer for Sky
To help Fox overcome regulatory hurdles in its pursuit of Sky, Disney agreed to acquire Sky's news unit. As a result, it wouldn't appear that the Murdoch family would have too much influence in Britain's media landscape if Fox swallows Sky Group.
The Murdoch family controls Fox as well as News Corp (NWSA), which runs several large newspapers in the UK. Disney wouldn't be forced to bid for Sky if Fox succeeds in acquiring Sky.
Disney indicated no interest in taking over Sky as a whole
For Disney, being compelled to bid for Sky in the event Fox is blocked from swallowing the broadcaster could temper its plans. At the time of striking the deal to buy Fox's assets for $52.4 billion, Disney suggested that it wasn't interested in bidding for the whole of Sky.
In the event it would have to bid for Sky, Disney would be required to make an offer that at least matches Fox's offer of 10.75 pounds per share, which values Sky at roughly $26.0 billion. A bid for Sky could also put Disney on a collision course with Comcast (CMCSA), which recently confirmed its $31.0 billion bid for Sky. Disney defeated Comcast and Verizon (VZ) in the race to strike a deal with Fox for the purchase of most of its operations.
Disney's revenues rose 4.0% year-over-year to $15.4 billion in fiscal 1Q18 (calendar 4Q17).