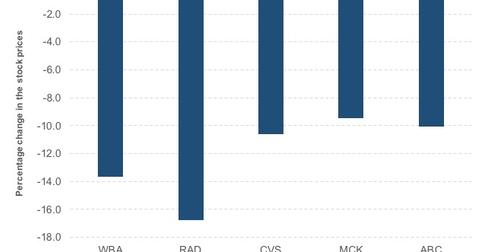 CVS Health and Walgreens' Stock Prices Fell
By Sonya Bells

Updated
What's pressuring pharma stocks?
Drugstore stocks have been under pressure in the past year due to fears of Amazon (AMZN) entering the pharma space, President Trump's drug pricing policy change, and the ongoing consolidation wave in the industry.
So far, Walgreens Boots Alliance (WBA) and CVS Health's (CVS) share prices have fallen ~14% and ~11% this year. However, the two companies aren't the only healthcare stocks that are in the red. Rite Aid (RAD) has fallen 17%, while AmerisourceBergen (ABC) and McKesson (MCK) have fallen 10% and 9%, respectively.
Amazon's threat
Drugstore stocks took a hit after CNBC reported last October about Amazon's potential strategy to enter the prescription drug market. In January, Amazon announced that it will form a non-profit healthcare venture along with Berkshire Hathaway and JPMorgan Chase with the aim to lower health care costs for the three companies' employees.
While Amazon might not end up competing against brick-and-mortar drug retailers, it certainly had the capacity to kill their stock prices.
President Trump's policy threat
Another key concern for pharmaceutical stocks this year has been President Trump's new policy regarding drug prices. Stocks of most pharma companies were in the red in early May when President Trump was about to announce the new drug pricing policy.
However, the policy announcement wasn't as threatening as expected. President Trump mainly talked about making changes to the Medicare Part D plans and fixing price disparity between the US and foreign drugs. Most of the discussion in the policy probably won't impact drugstore stocks' bottom line. In fact, CVS issued a statement welcoming President Trump's proposals.
Besides the points discussed above, drug store stocks have also been impacted by recent acquisitions and rumors.