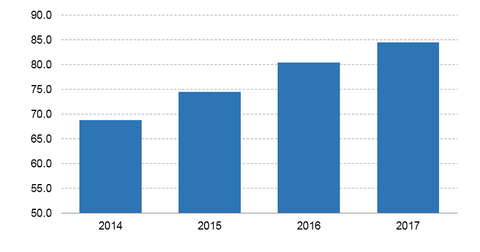 Comcast Signs Multiyear Advanced Advertising Pact with Viacom
By Ruchi Gupta

May. 11 2018, Updated 8:02 a.m. ET
Delivering more relevant ads to television audience
Comcast (CMCSA) and Viacom (VIA) (VIAB) recently entered a multiyear agreement to expand their cooperation in the area of advanced advertising, which involves targeting commercials at the household level.
The deal involves Comcast contributing technology and data while Viacom brings national reach and expertise to deliver better ad targeting. The partnership is expected to make it easier for Viacom to know who is watching its shows, allowing it to deliver more relevant advertisements to the audience.
Comcast and Viacom are part of a consortium known as OpenAP, which is an advanced audience platform. Time Warner (TWX) and 21st Century Fox (FOX)(FOXA) are also members of the OpenAP consortium.
Article continues below advertisement
Ad revenues declined 8.8% at Comcast
Viacom is looking to take advantage of the data and tools developed by Comcast's FreeWheel unit. These tools would provide better ad targeting to audiences viewing traditional television as well as subscribers to online video services.
FreeWheel is the umbrella brand of Comcast's advanced advertising business. Comcast acquired FreeWheel in 2014. Until the end of 2017, Comcast's revenues were up more than 22.8% since 2014. However, Comcast's advertising sales dipped in 2017, dragged down by low political ad spending. Advertising revenues dropped 8.8% to ~$2.3 billion. The chart above illustrates Comcast's annual revenue trend.
Viacom building advanced advertising alliance