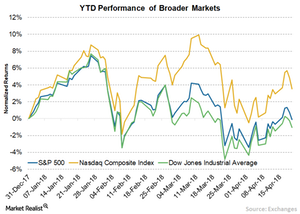 Broader-Market Correction Failed to Boost Gold Equities
By VanEck

Updated
VanEck
3. Gold stocks have yet to recover from the early February sell-off: Investors viewed the general market sell-off as an overdue correction, rather than the reemergence of systemic risks. This interpretation precluded a flight to safe havens, causing gold and especially gold stocks to sell-off with the market in early February. As a result, RBC Capital Markets notes that the gold producers are trading at a roughly 20% discount to their historic valuations. So far, the general sell-off has been too short to benefit safe In a February report, Goldman Sachs finds that it usually takes a month or so of equity drawdown for gold to start to act like a hedge.
Article continues below advertisement
Market Realist
Broader markets recover lost ground
The broader markets plunged around 10% in early February from their peak in the last week of January. While the S&P 500 Index (SPY) dipped 10.2%, the Nasdaq Composite Index (QQQ) fell 9.7% and the Dow Jones Industrial Average (DIA) fell 10.4%. However, the correction was short-lived, as markets' recovery lost ground immediately. The S&P 500 is currently almost at the same level as the beginning of the year, while the Dow Jones Industrial Average is just falling short of 1%. On the contrary, Nasdaq has gained 3.5% year-to-date.
Broader equities likely to hold ground
Broader markets shrugged off worries like the rate hike and geopolitical concerns and are still holding their ground. The market is driven mainly by higher corporate earnings growth and positive economic indicators. Consequently, investors largely ignored safe-haven investments amid expectations of robust returns from broader markets. As a result, we haven't seen the kind of strong shift toward gold equities (IAU)(GDX) that was needed to push them higher.