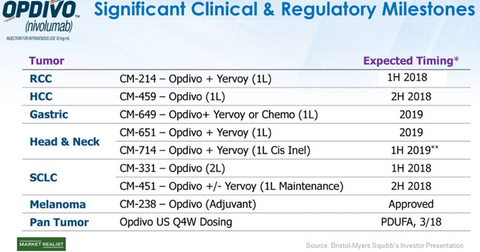 BMY Is Rapidly Advancing Its First-Line NSCLC Research Program
By Margaret Patrick

Updated
First-line NSCLC research program
Bristol-Myers Squibb (BMY) expects to have a data readout from part two of the CheckMate-227 trial, which evaluates Opdivo-chemotherapy combination in first-line NSCLC patients regardless of PD-L1 expression and tumor histology, in 2019. The company also expects to witness data from the CM-9LA trial, evaluating Opdivo and Yervoy combination regimen concurrently with two cycles of chemotherapy in first-line NSCLC patients in the second half of 2019.
Article continues below advertisement
At the 2018 ASCO meeting, Bristol-Myers Squibb plans to present data from Part 1b of the CheckMate-227 trial, the one in which a combination regimen of low-dose Opdivo and Yervoy is being tested in PD-L1 negative NSCLC patients. The company aims to compare results for I-O/I-O combination regimen in PD-L1 negative first-line NSCLC patients with those seen for I-O/chemotherapy combination regimen. Additionally, Bristol-Myers Squibb also expects to present patient-reported outcome data in high tumor mutational burden (or TMB) NSCLC population at the ASCO meeting.
Other indications
The above diagram lists the major clinical and regulatory milestones for Bristol-Myers Squibb's Opdivo franchise in 2018 and 2019 in indications other than NSCLC.
On March 27, the FDA approved Bristol-Myers Squibb's application seeking approval for Opdivo-Yervoy combination in the microsatellite instability-high or mismatch repair deficient metastatic colorectal cancer (or mCRC) indication. The Prescription Drug User Fee Act date for this application has been set for July 10.
Opdivo has also managed to demonstrate solid uptake in the adjuvant melanoma indication, further boosted by the regulatory approval of four-weekly dosing regimen both in the US and Europe. The drug currently accounts for 40% to 50% of the I-O eligible adjuvant melanoma market share, and has affected uptake of Yervoy in this indication.
Bristol-Myers Squibb is also witnessing robust demand trends in the first-line metastatic melanoma indication and especially in the BRAF mutant patient population, for its Opdivo-Yervoy combination regimen.
Opdivo has thus enabled Bristol-Myers Squibb to compete effectively with other melanoma players such as Merck (MRK), Exelixis (EXEL), and Amgen (AMGN).
In the next article, we'll discuss growth prospects for Opdivo and Yervoy in greater detail.